MEDICA 2015
Schiller: DEFIGARD Touch7
The latest member of SCHILLER's rescue family is extremely compact and offers the latest defibrillation technology in combination with comprehensive monitoring functions. It is the first emergency monitor/defibrillator equipped with a touch screen, making it the most intuitive device on the market.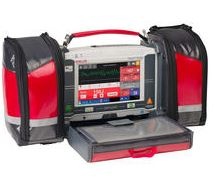 Thanks to the new software environment Touch'n Save, this device offers unmatched user-friendliness. Projected Capacitive Touch technology enables highly responsive operation of the large and bright 7-inch display, even when wearing gloves.
Can be used anywhere
The DEFIGARD Touch7 has been developed so that it can also be used in extreme conditions. It is the ideal companion for all land and water interventions. Thanks to its lightweight structure, it also offers new possibilities for air rescue operations. Its low weight – three to four times less than that of competing products – ensures significant fuel saving when used on an airplane or helicopter. With its mounting bracket that also serves as battery charger, the DEFIGARD Touch7 is resistant to shocks and vibrations, thus complying with land and air rescue operation standards.
Connected at all times
The device can perform high-speed data transmissions whenever needed. Depending on the location, transmission can be performed using Wi-Fi or 3G. The safety standard WPA2 Enterprise guarantees comprehensive data protection.
Operational at all times
The DEFIGARD Touch7 is ready to be used at any time, thanks to regularly performed self-tests and to a RFID transponder that monitors the defibrillation electrodes' expiry date.
Most frequently demanded functions
ECG monitoring and 12-lead ECG diagnostic recordings
SpO2, SpCO, SpMet
Non invasive blood pressure measurements
Temperature
For more information, come and join us at the MEDICA in Dusseldorf (hall 9, stand E05).
Source: Schiller AG
More on the subject:
More on companies: