Sponsored • Keeping up with Progress:
Robotic Evolution Meets Innovative Life Cycle Management
While the debate on the added value of robotics and robot-assisted systems has been in full swing for a while now, the demand for robotic surgery throughout Europe's medical institutions continues to grow exponentially, particularly in specialties like visceral surgery and orthopaedics.
But what exactly are the benefits and downsides involved with the use of surgical robots? And how can a hospital afford to keep up to date when a common robotic surgical system can easily enter seven-figure costs?
Our experience with robotic-assisted surgery has shown that patients need less painkillers after a surgery. In addition, the recovery process is shorter, and patients regain mobility more quickly

Dr. med. Uwe Lehmann
The advantages of a robot-assisted systems cannot be denied: The millimeter precision of a well-maintained robotic system is a reliable constant 24/7. The surgeon always retains control of the robotic arm and its instrument tips. The flexible arms increase the surgeon's freedom of movement and support him especially during high-accuracy surgeries or lengthy procedures. The improved ergonomics for the surgeon is a value that cannot be underestimated while patients can expect a better surgical outcome and lower operation risks.
"Our experience with robotic-assisted surgery has shown that patients need less painkillers after a surgery. In addition, the recovery process is shorter, and patients regain mobility more quickly", Dr. med. Uwe Lehmann, Chief Physician at the clinical center Forchheim, Germany, confirmed.
In addition to the medical benefits, the purchase of a surgical robot is both a matter of prestige and competitive advantage that can help to retain highly qualified young professionals at the hospital. While today, many patients insist to have the chief surgeon perform their surgery, this might soon expand to demands for robotic surgery. Current PwC surveys indicate this development with 73% of citizens surveyed in Europe, the Middle East and Africa stating they would accept undergoing minor robotic surgery.1 In short: Robotics is a striking symbol of progress.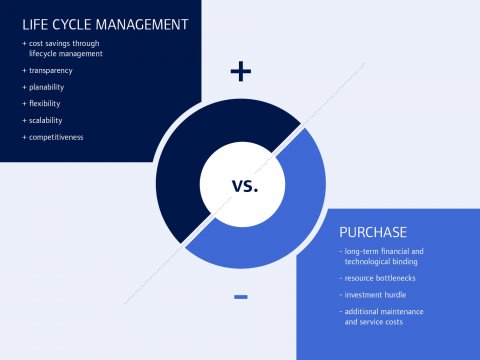 Apparent downsides of the new technologies are the high acquisition and maintenance costs, the increased time required for sterilization and OR preparation, and the need for additional staff training. Robot sceptics furthermore point out the current lack of studies on whether robot-assisted surgery actually leads to better or even equally good results compared to manually-performed surgeries. But at least in the case of knee protheses, the higher precision seems to ensure that up to 95 percent of patients are satisfied with the outcome compared to 80 percent from non-assisted surgeries.
To overcome the financial hurdle, experts at manufacturer-independent technology service providers such as CHG-MERIDIAN offer innovative financing concepts. These take into account the demands of hospital purchasers and provide transparency on operating costs for a modern robotic system. In addition to the robot itself, consumables, and special peripherals have to be factored in, for example to disinfect the robot arms or to extract smoke gases during pneumoperitoneum operations or using electrocautery.
Technology and financing service providers create a transparent total pool of costs that can be broken down to manageable monthly costs while considering the useful life of the equipment. Buyers can thus quickly calculate when or if a robotic system would pay off economically. Depending on the cost and revenue structure of the hospital, payment models like pay-per-use (PPU) or pay per intervention (PPI) can be tailored to the specific use case. Since the robots are remarketed after a certain period, the costs are reduced substantially compared to a long-term investment.
Another important advantage of cooperating with a financing service provider is the high level of project and contract scalability. Customized contracts enable hospitals to flexibly react to changing requirements or varying needs for consumables. With a concept that is tailored to the exact needs of the healthcare institution, digitisation pioneers obtain a worry-free solution and can focus on the essentials.
The future of medical technology is already here – healthcare institutions just often lack the financial means to correspond to ever important state-of-the-art developments in robotic systems. With individual life cycle management concepts, hospitals can take advantage of new robotic technologies today and benefit from them in the long term.