Source: FUJIFILM SonoSite
Sponsored • Daily practice
Point-of-care ultrasound races ahead in sports medicine
Sports injuries often require immediate attention to shorten recovery times and prevent further damage, creating a demand for healthcare professionals who specialise in sports medicine and have the flexibility to adapt to the changing pressures of the sporting seasons.
Point-of-care ultrasound is establishing itself in this field, supporting the assessment and treatment of a range of injuries from across a variety of sporting activities. Thomas Sokollik, a Heilpraktiker with experience of working in anaesthesia and emergency medicine, describes how point-of-care ultrasound helps him in sports medicine and his daily practice.
The iViz is exactly the right instrument for my job, and I couldn't be without it

Thomas Sokollik
Point-of-care ultrasound plays an important role in sports medicine, and is key to the successful treatment of many injuries, whether assessing muscles, tendons and ligaments for damage or for guiding spinal column injections. Returning to the sports field as soon as possible is a priority for many athletes, and a fast diagnosis is essential to kickstart the treatment process. Thomas Sokollik works as a Heilpraktiker, specialising in sports medicine at his private practice in Kreuztal, Germany, and has seen for himself the benefits that modern point-of-care ultrasound instruments provide; portability and high quality images make the technique an essential tool.
Mr Sokollik explained: "My journey with ultrasound has been an interesting one. Nowadays, new techniques, such as ultrasound guided injections, are taught to medical students as standard but, when I trained, ultrasound was only used in internal medicine and radiology and not included in anaesthesia. I first began to use the technique when I set up my practice eight years ago, but owned an old ultrasound machine from the 90s with poor image quality; most of the time it looked like it was snowing on the screen! One day, I met a friend at the hospital where I used to work, and he showed me a brand new ultrasound system. The picture quality, colour Doppler and ease of use convinced me that the quality of ultrasound had changed quickly over the years and I needed a new system. It made sense to have a portable device that was more comfortable to carry with me; I chose a SonoSite iViz system (FUJIFILM) and am now using ultrasound a lot more."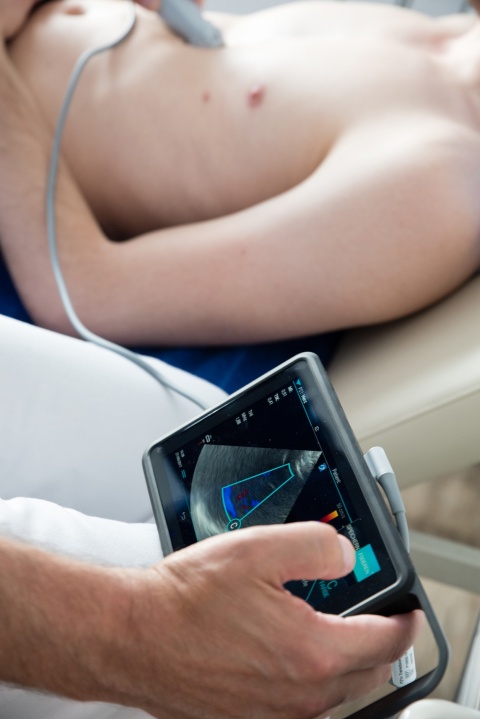 Many sports patients visit Mr Sokollik with acute problems, nearly half of which have occurred on the football field, plus other sport-specific conditions, such as ankle and shoulder complications in basketball and handball respectively. In many cases, assessing and treating sports injuries requires specialist knowledge, and a general doctor may not always be the best port of call for someone who wants a speedy return to the sport. Mr Sokollik continued: "Treating a chronic knee problem with a cortisone injection may work in general medicine, but doping concerns mean that high level athletes are hesitant to accept steroid treatments. It can also be difficult for some patients to access medical support when they need it; the players and coaches know that if they delay therapy after an injury, recovery time can be longer. For this reason, I keep my practice open on Sunday evenings during football season, treating players who have injured themselves in the afternoon's game, and want to know if they can play again the next week. In August and September, when there's a lot of pre-season training for a number of sports, I see one or two patients every day with plantar fasciitis, often caused by inadequate and old shoes, or placing too much stress on the feet after three months without competitive sport. This is a good example of where the treatment I recommend depends on ultrasound, specifically on whether the scan shows any calcium deposits. In these, and many other circumstances, modern ultrasound systems are very useful, enabling me to assess musculoskeletal injuries, such as tennis elbow or housemaid's knee, as well as tendons, ligaments and fractures. I have a rule in my practice: the patient sees what I see, and knows what I know, so they understand my therapy recommendations. The ultrasound scan is essential to this, and the patient is more likely to comply with treatment when they can see and understand the diagnosis. Younger patients in particular are very interested in the system, and impressed by its high-tech specifications."
Source: FUJIFILM SonoSite
"I also frequently offer spinal column injections as an important part of treatment programmes and, three years ago, I attended an anaesthesia seminar to understand how ultrasound could be used to guide these injections. In the past, I used an external landmark technique, but the process is a lot safer and more comfortable for the patient with ultrasound guidance. The iViz image quality is outstanding in contrast with my previous system, and the device is very user-friendly, especially for this kind of procedure. I can easily see the display, hold the transducer with one hand and work the system menus with the other; I don't need to remember hundreds of options. Its small size and portability is a huge bonus as well, especially for events like triathlons, where I sometimes offer medical support. Overall, the iViz is exactly the right instrument for my job, and I couldn't be without it."
Source: FUJIFILM SonoSite
More on the subject:
More on companies: