Point of care testing
Demand is increasing for point of care (POC) diagnostic testing, particularly for tests that help foster clinical decision-making within 30 minutes or less.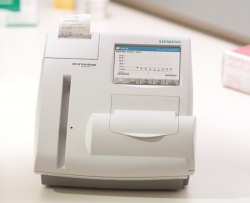 Laboratory-quality test results (once only obtained via the central lab) are now available directly in doctor's surgeries, out-patient clinics and within hospital departments. Thus it's no surprise to see a significant expansion of POC testing utilisation in critical care and chronic disease management situations, says Dr David Stein. In critical care environments, POC tests are helping physicians to make life-saving decisions within minutes, not hours. The ability to quickly and accurately assess troponin levels, measure pleural fluid pH levels, or rule out pulmonary embolism are just a fraction of the critical care tests now available that can be conducted near the patient.
Another example is lactate testing for lactic acidosis (or abnormally high acidity in the blood). Frequently seen in critically ill patients, lactic acidosis has a number of potential causes, including shock, diabetes, liver disease and sepsis.
Although generally considered a nonspecific biomarker, knowing lactate levels early in a patient's presentation can provide valuable information and open a critical window for intervention when treatment is most likely to be successful. Lactate testing at the point of care can be particularly useful in intensive care and the emergency room, where the presentation of symptoms may be inconclusive.
For chronic disease management, POC tests are helping to save valuable time by consolidating patients' visits, because physicians can now immediately review results and discuss necessary adjustments to treatment plans for a number of chronic diseases, such as diabetes, hypertension and cardiovascular conditions.
Notably, in-office diabetes testing is expanding. While historically, HbA1c testing has been commonly used to manage diabetes patients, more recently the medical community has recognised its clinical utility in the disease's diagnosis, with convenience cited as a significant patient advantage.
For example, HbA1c testing can be conducted at any time and requires no patient preparation, unlike fasting plasma glucose (FPG) measurements, where it's necessary to fast at least eight hours prior to testing. Also, only a single measurement is needed during HbA1c testing, as opposed to blood glucose testing, which involves serial blood draws over several hours. Recognising the value to physicians and patients, Siemens recently made its DCA HbA1c test kit (#: 10698915. Not available in all countries), which has been used for years as an in-office tool for monitoring diabetics, available as an aid to diagnose diabetes and identify people at risk of developing diabetes.
As POC testing continues to evolve, physicians and POC coordinators are helping us identify additional areas where it can be applied, including chemistry, immunoassay, haematology, and, in particular, coagulation testing. The ability to quickly deliver lab-accurate PT/INR results to clinics and physician offices is an important component of optimal patient care, and we plan to offer a new and innovative handheld device later this year to help address this need.
But the value of laboratory-quality POC testing goes beyond clinical application. The growing prevalence of health networks – comprised of hospitals, clinics and physician offices – increases the need for standardisation of test results across different locations. For example, a urine test result needs to correlate across multiple sites within the health network, regardless of whether the test was administered via a portable device in the physician's office, semi-automated device in the clinic, or on a hospital's fully automated analyser in the core laboratory.
We also anticipate more demand for smaller, easier-to-use devices that provide seamless connectivity throughout hospitals and health networks. Clinicians and POC coordinators will increasingly want to work in a POC Ecosystem—an environment that enables the ability to remotely access and monitor patient status simply, quickly and securely while centrally managing multiple devices to help standardise procedures, facilitate compliance and improve risk management.
Profile:
David Stein PhD is CEO of the Point of Care (POC) Business Unit for Siemens Healthcare Diagnostics. He is responsible for long-term global strategy and business planning, strategic marketing, product and brand management and product development for all existing and new POC products and solutions.