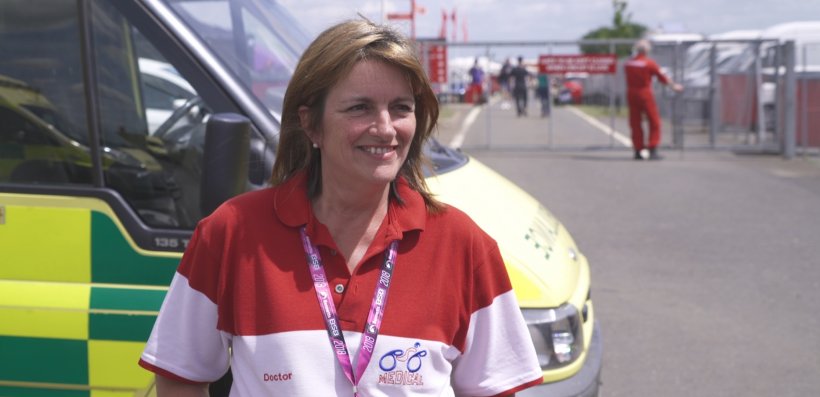 Source: FUJIFILM SonoSite
Sponsored • Portable systems
POC ultrasound – a tool to enhance triage in British Superbikes
FUJIFILM SonoSite has recently become an Official Supplier of the Bennetts British Superbike Championship (BSB), providing point-of-care ultrasound systems to support the first-class care of riders and teams competing in the championship. The company's robust and highly portable ultrasound systems will provide the BSB medical team with on-site imaging capabilities, complementing clinical examinations to provide fast and accurate triage of patients. Dr Heike Romer, Chief Medical Officer for the championship, described how ultrasound will be used.
I've not seen such a compact, neat and tidy machine before

Heike Romer
'Motorcycle racing is an exciting and popular sport, and BSB is widely regarded as one of the most prestigious and professional national championships globally. However, as with any speed sports, there is an inherent risk associated with motorcycle racing, and we know that there is always a chance of injuries during a race weekend. To mitigate this risk as much as possible, and to avoid putting additional pressure on NHS resources, we have a full medical team – consisting of doctors, paramedics and up to seven ambulances – at each event. We have a number of medical posts spread around the track, rapid response vehicles at strategic locations to provide immediate on-track back-up and a fully equipped medical centre on site. If an incident occurs, the aim is to assess and stabilise the patient at the trackside, then promptly transfer them to the medical centre for further triage and stabilisation. They can then be transferred to hospital in one of our ambulances or, in critical cases, via air ambulance. This set-up and approach means that we are at the scene of an accident within literally seconds, and have generally transferred the patient to the medical centre in less time than it would take for an ambulance to attend a traffic accident on public roads.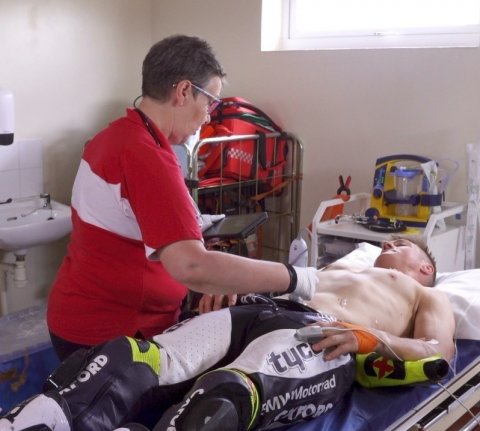 The availability of ultrasound imaging will be a real advantage in the medical centre, allowing us to more effectively assess, stabilise and monitor patients. For example, if we suspect a pneumothorax, we can scan the chest and confirm this straight away, rather than having to monitor the patient and wait for clinical signs to appear. This will give us an early warning of this time-critical condition, and allow us to begin preparing them for transport to hospital much sooner – potentially leaving the racetrack before any clinical indications have developed.
It will also be very useful in polytrauma cases, allowing us to perform FAST scanning and identify conditions such as cardiac tamponade to help us accurately triage and prioritise a patient's injuries. This enables us to provide patients and their teams – and potentially their families – with as much information as possible, providing reassurance or preparing them for the likely course of events once they reach the hospital. There is also the possibility of using ultrasound to guide procedures. For example, we could perform a femoral block to make a patient with a broken leg more comfortable for transport. Similarly, it can be used post-injury if the patient develops swelling during a race weekend, allowing us to locate and drain a fluid build-up, or identify a haematoma.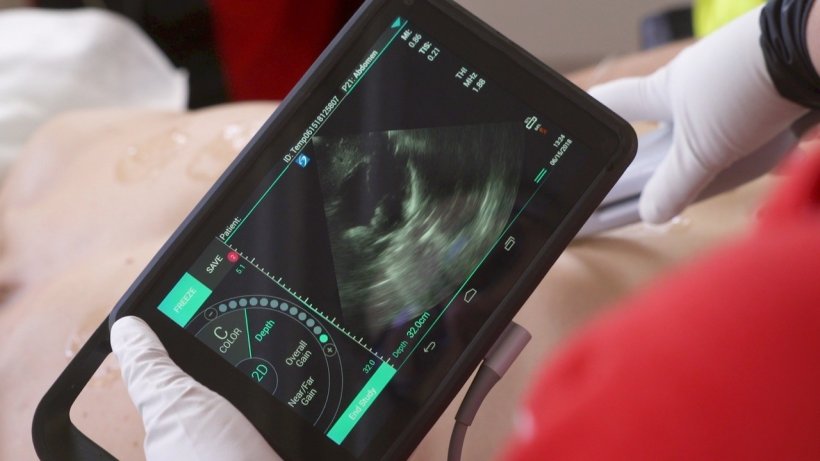 Source: FUJIFILM SonoSite
Many of the doctors that volunteer for the BSB medical team have extensive ultrasound experience, and the consensus was that FUJIFILM SonoSite instruments would be very well suited to the sometimes busy environment of the medical centre. I had no previous experience of using the company's equipment personally, but I was very impressed with the iViz when we received our training; I've not seen such a compact, neat and tidy machine before. Given its small size and the fact it's so portable, I'd expected something a lot more basic. It seems ideal for our needs, enabling us to deliver faster and more efficient treatment of patients. Our aim is to replicate the care patients would receive in the emergency department, but in a pre-hospital setting, making their trip through the hospital that much more efficient, and our SonoSite ultrasound system will certainly help us to achieve that.'
Source: FUJIFILM SonoSite
More on the subject:
More on companies: