PET/CT and children
Study shows higher sensitivity, specificity and accuracy than conventional imaging
PET/CT imaging exhibits significantly higher sensitivity, specificity and accuracy than conventional imaging when it comes to detecting malignant tumours in children, according to research published in the Journal of Nuclear Medicine (12/07).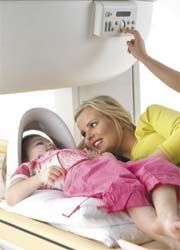 'PET/CT is useful in finding small tumours in small children and is a promising imaging tool in evaluating paediatric malignancies,' concludes Richard L Wahl MD, the 'Henry N Wagner Jr. MD Professor of Nuclear Medicine' at Johns Hopkins Medical Institutions in Baltimore, Maryland, who has pioneered the use of PET with FDG and fusion imaging in a wide range of common adult cancers. 'In our study, we found that PET/CT can detect small lymph node lesions diagnosed as negative with conventional (or anatomical) imaging and deny the presence of active disease in soft-tissue masses post-treatment — especially in children with a wide range of malignant cancers. Using PET/CT could help spare children from overtreatment while fighting their disease.'
There are few findings about the use of PET/CT imaging compared with conventional imaging in paediatrics, he points out. The investigators retrospectively reviewed cases to evaluate the efficacy of PET/CT compared with other imaging methods. This involved 151 FDG PET/CT examinations performed on 55 children with non–central nervous system malignancies (30 had lymphoma).
PET with CT imaging — using the radio-tracer fluorodeoxyglucose (FDG) — enables collection of biological and anatomical information during just one examination — PET picks up metabolic signals of body cells and tissues; CT provides a detailed map of internal anatomy. 'PET/CT showed its broad applicability and utility by providing additional information, in over a third of the children's exams, that could be used by doctors to more appropriately manage or treat the disease in children,' adds Dr Wahl. 'When there were discrepancies between PET/CT and conventional anatomical imaging in analyzing cancer lesions, PET/CT was diagnostically accurate 90% of the time.'
Dr Wahl adds that additional studies with specific childhood cancers are warranted.
* Co-authors of '18F-FDG PET/CT in Evaluating Non-CNS Paediatric Malignancies': Mitsuaki Tatsumi, of the Nuclear Medicine Division, and John H. Miller, Paediatric Radiology, both at the Radiology Department of the Johns Hopkins Medical Institutions, Baltimore, Md.