Transport ventilator
Oxylog VE300: A sturdy life saver in emergency response
Lightweight, sturdy and simple to operate – the Oxylog VE300 is Dräger's newly developed emergency and transport ventilator that is particularly apt for use outside of the hospital environment. Emergency doctors and paramedics can provide patients with the most important ventilation modes and, if necessary, use the device for CPR.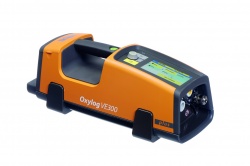 If there is a life to save, time is at a premium. Thus, the Oxylog VE300 follows a simple and clear philosophy of operation, e.g. it consists of an intuitive input screen and a touchscreen that can be turned 180°. The ventilator weighs only 3.6 kg and is designed ergonomically, with a big handle. It allows the first responder to comfortably transport the device including the breathing gas cylinder and to easily place it next to the patient. The Oxylog VE300 works in environments with a temperature ranging from minus 20 °Celsius to plus 50 °Celsius and can be operated for up to nine hours straight.
Ventilation in almost any emergency
Whether invasive, non-invasive or spontaneous: First responders can provide emergency patients with volume-controlled ventilation or support their lung function using CPAP ventilation. The optional capnometry function measures the CO2 level in the exhaled air during ventilation. Furthermore, the Oxylog VE300 offers a CPR (cardiopulmonary resuscitation) function to also allow ventilation of patients during resuscitation. The ventilation data can be transferred using the USB or Bluetooth interface and can thus be documented when the patient is transferred to the hospital team providing the further treatment. Manufacturer of the Oxylog VE300 is Drägerwerk AG & Co. KGaA.
Source: Drägerwerk AG & Co. KGaA