New wave IT flows towards greater mobility
Just as medical teams are getting used to using management and hospital information systems (HIS) the next wave of innovative IT products and solutions is ready to hit them.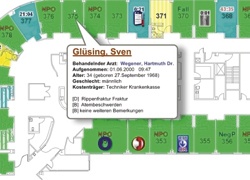 Wireless networks are on the way, to provide mobile data entry, trace medical equipment and even make hospital-wide radio waves available to patients.

One innovative company that develops the tools to run wireless local area networks (WLAN) within firms and hospitals is DDS GmbH, based in Neuried, near Munich, Germany. 'We deal exclusively with data and speech transmission in WLAN, SAN and LAN, with network documentation and mobile solutions,' explained Bernd Kahnes of DDS.

One hurdle in hospitals is proximity to sensitive medical equipment. 'Structural conditions, as well as technical installations, or large medical equipment that might create interference fields, are particular challenges,' said Christian Gauer, Head of Technology at DDS.

The company uses networking hardware from CISCO to install its mobile radio solutions. The aim is to enable mobile communications for ward rounds, and to supply patients with services at the bedside - they can make phone calls, watch TV, control room lighting, and so on, via a multimedia terminal.

'The WLAN also enables us to locate marked medical equipment, such as ultrasound scanners or patient monitors within the hospital,' says Sven Glüsing of Dimension Data in Hamburg. The common loss of medical equipment in hospitals can be significantly reduced through marking with RFID tags (radio frequency identification). 'So, in an emergency medical staff only need to press a button to confirm on-screen the whereabouts of an urgently needed patient monitor,' said Sven Glüsing.

Costs can also be cut through software that accesses the databases of different IT systems and evaluates existing information. The communication dashboard supplied by Dimension Data visualises patient and nursing data.

If, for example, the cleaners confirm finished tasks in patients' rooms on an input terminal, no matter whether they are centralised or decentralised the bed managers have up-to-date room plans for all wards, showing current occupancy and space for new beds.

Administration tools in the dashboard allow clinic management to summarise and visualise capacities, shortages and overcapacities. Used in the right way this means that working processes can be optimised, the length of hospital stays reduced and capacity improved.
From admission to discharge, a 360º view ensures that all doctors can be fully aware of all diagnoses and needs, along with visualisation of all clinical workflows.

A big advantage in these enterprising young companies that focus on healthcare organisations, is the range of services they offer, for along with applications they deal with IT and operational safety and proactive IT monitoring and management - tasks that many manufacturers of HIS, RIS and PACS solutions still find difficult. Moreover, the young firms are happy to enter into strategic commercial partnerships, to improve their provision of the best project-specific products and services.

Cologne University Hospital uses the Online Network and Facility Management Service supplied by Dimension Data, along with their support services package. The InSite module ensures that the hospital management has 24/7 monitoring of network components, reporting any technical failures within five minutes of occurrence, automatically logging service requests and commencing fault clearance.

Successful integration of clinic management software packages not only ensures the interaction of different products but also co-operation between different companies. DDS, Cisco and Dimension Data are three business partners whose product portfolios complement one another and add value to hospital information technology with mobile solutions. All three are currently unlocking information in a so far unimagined dimension with a wave of modern services and applications.