New solution accelerates patient care decision-making
Hitachi Data Systems and Mawell form strategic partnership to streamline the management of patient records and images: According to recent EU research, ever-lengthening life expectancy means that Europe's pensioner population is set to swell to more than 100 million by 2050.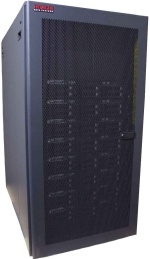 As life spans increase advances in medical technology, such as diagnostic imaging, are helping to meet the demand for the higher levels of healthcare required by an aging population.But such advances don't just come with a financial cost. They also create an enormous burden in terms of the storage requirements for the spiralling amount of medical data.
A straightforward CT scan, for example, produces 250MB of data, while an in-depth colonoscopy study can generate file sizes of up to 2GB. When combined with growing patient numbers, the data overload is bringing increased pressure to bear on many healthcare organisations as they grapple with the burgeoning quantity of patient information.
In addition to the actual storage requirements posed by today's avalanche of medical data, patient information also needs be made accessible to healthcare staff in a speedy, efficient fashion. Lengthy retrieval times mean healthcare professionals waste valuable time and resources searching for patient information that resides in multiple data repositories across the hospital. What's more, the process often requires medical staff to simultaneously juggle multiple applications as they try to pinpoint relevant patient data.
Addressing the issue of storing and rapidly retrieving medical data head on, Hitachi Data Systems, the leading provider of Services Oriented Storage Solutions (SOSS), teamed up with European healthcare software provider Mawell. Together they set about devising a solution that would give healthcare professionals access to patient information anywhere at anytime.
Recognising their respective complimentary heritage in medical technology, Mawell partnered with Hitachi Data Systems in a year-long project to bring highly scalable data management solutions to a wider European healthcare audience.
By providing clinical staff with accurate patient data, when and where they need it, the resulting Hitachi HealthXchange Module and Mawell M7 solution will increase workflow efficiencies and improve patient care, helping to maximise resources and transform healthcare quality.
"By partnering with Mawell, we've combined the company's sophisticated medical software with our advanced storage technology. The result is a data management solution tailored to the exact needs of healthcare organisations across Europe," says Mark Clark, Hitachi Data Systems director for e-health solutions EMEA.
"Medical staff can now enjoy a new level of simplicity and fast access to patient records and images. Virtualisation will soon be an integral part of healthcare IT systems, and by using Hitachi storage, hospitals and clinics can benefit from our unrivaled expertise in this area."
The Mawell and Hitachi solution ensures patient information is readily available to clinicians. The Mawell M7 medical imaging solution manages multimedia clinical content and electronic health records across multiple sources. It creates a virtual network within the healthcare organisation, and can be extended to include other healthcare providers in different locations. Through virtualised patient informatics, it consolidates this data and presents a single view of patient information tailored to the needs of the healthcare professional.
The Hitachi HealthXchange Module provides a scalable platform to archive digital medical images, electronic health records and associated data from the various healthcare systems such as PACS, Radiology Information System (RIS) and Healthcare Information Systems (HIS). Through the Mawell interface, medical professionals can quickly search, locate and retrieve patient data from the Hitachi archive when needed. The archive also features automated policy management that allows healthcare organisations to comply with government regulations to ensure content authenticity, retention and integrity.
Hitachi HealthXchange Module is a fully integrated component of Hitachi's Content Archive Platform (HCAP) and supports Hitachi Data Systems' Services Oriented Storage Solutions (SOSS) approach to storage management.
Looking to the future Petri Morko, PR and marketing manager for Mawell, believes that the need for real-time access to information will continue to grow. "Electronic patient data is continuing to evolve and new storage-intensive formats, such as video and bio-signals, will ensure storage requirements grow exponentially," says Morko.
"At the same time Hitachi's leadership in storage and storage virtualisation perfectly complements our expertise in virtualised patient informatics. With our combined solution, healthcare providers can accelerate patient care decision-making and provide patients better care in a more efficient and sophisticated way."