New modular roll stands on show
Physicians and nurses need flexible solutions to monitor and administer patient data, and the devices they seek must be ergonomically designed, easy to clean and made of high-quality materials, CIM med, specialist in carrier arms, points out.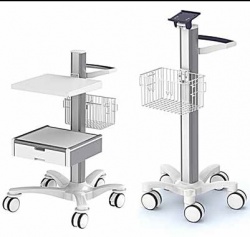 To this end, the firm has produced easily adaptable solutions with its series of roll stands.
The mobile mounts of the CIM Cart series can be perfectly adapted to the needs of clinical personnel, the company adds. 'They are made of eloxised aluminium and feature an integrated cable management system. Avoiding a tangle of cables on the floor means that germs have no place to collect. In addition, these devices offer a great deal of flexibility and meet high standards of hygiene. They are easy to clean and resistant to hospital-grade disinfectants.' As Manuela Loibl, CIM med's general manager, points out, 'Carrier systems have to support work in hospitals where they will be really put to the test. They must be made of high-quality materials.'
Simply lighter The centrepiece is a base with five rollers that gives optimal stability and is available in a variety of versions depending on need, the firm explains. 'The small cruciform base made of aluminium can carry over 30 pounds (15 kilos) without a counterweight and is therefore a real space saver. For greater burdens, a heavier base of steel with asymmetrical cantilever arms provides the required stability. For example, the model can be used to secure the kind of heavy equipment used in video monitoring for endoscopies and diagnostics.
The integrated cable management system, patented by CIM med, offers the greatest possible amount of flexibility and hygiene. The two models are equipped with high-quality double rollers and are easy to manoeuvre. A conductive version is also available in the portfolio.' The roll stand column provides several options: all the carrier arms and components can be slipped onto its C-profile. In addition, with an expanded range of applications, configuration of workstations is reported to be quick and easy.
In addition to normed tracks and handles, the company also provides baskets, cable hooks, infusion holders, drawer consoles and trays. The manoeuvrable roll stands are CE marked and they also comply with the Medical Device Directive MD 93/42 EEC. During Medica, this year, the German manufacturer is celebrating five successful years in business, and Its carrier arms are now at work in more than 30 countries.
See CIM med in Hall 13, booth C21.