Negative pressure wound healing technology
Report: Ian Mason
Despite some uncertainty about how it works, there is a growing consensus that Negative Pressure Wound Therapy (NPWT) – also known as Vacuum Assisted Closure (VAC) – is revolutionising wound care. Speaking at the 1st International Surgical Wound Forum, held recently in Amsterdam, surgeons from Europe and the USA predicted the growing use of this innovative technology across the spectrum of wound management.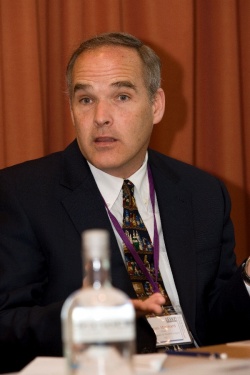 With a raft of new product launches due this Summer, hospitals across the EU could be freeing expensive ICU time, discharging patients earlier, and sending people with smaller wounds (e.g. diabetic ulcers) back into the community with disposable, iPod-sized, vacuum devices connected to their lesion.
Recent months have also seen a growing enthusiasm for 'prophylactic' use of negative pressure devices to help heal surgically closed incisions before problems such as infections occur. However before prophylactic use becomes widespread, more data are needed on which patients are likely to benefit, says Professor James Stannard, Department of Orthopaedic Surgery, University of Missouri, USA, and Chair of the ISWF meeting. 'The key is to define which wounds have a high enough incidence of problems to make it worth while intervening prophylactically.'
Prof. Stannard currently restricts 'closed wound' use to high-risk patients, such as brittle diabetics, rheumatoid arthritis patients with thin skin, very obese patients, smokers, some trauma and some older patients.
Recently, he completed a study (in press) that shows a mean half-day saving in time to discharge when such patients are targeted. 'If we save some patients from an infection, multiple surgery, or long term antibiotic use, the advantage is greater. However, if we start intervening on lower-risk patients then the equation will go the other way -- and this is going to be expensive.'
At the other end of the wound spectrum – the challenging ICU patient with an open abdomen following laparotomy, severe abdominal infection, intra-abdominal hypertension or abdominal compartment syndrome – there seems little doubt about the benefits of negative pressure therapy. 'It has revolutionised the treatment of the open abdomen,' said Anne Pullyblank, Consultant Colorectal Surgeon at the North Bristol NHS Trust, UK. 'VAC has massively reduced the time nurses spend changing dressings. It shortens length of time on ITU and improves time to wound healing.'
Peter Laws, Vascular Surgeon at Worthing and Brighton Hospitals, Western Sussex Health Trust, has been using VAC dressing to manage complex diabetic wounds for about five years.
'Typically we revascularise, then debride the tissue and apply a VAC dressing to encourage granulation tissue. Once we have done that we skin graft the wound afterwards,' he said. 'I was initially sceptical about this technology, but I admit to being a convert. We get some great results; reduced wound infection rates and improved time to healing. There is also excellent evidence to suggest that VAC improves the success rates of skin grafts.'
He foresees many more diabetic patients being discharged with portable VAC units. 'I want to push greater use of VAC therapy in the community because I believe that it reduces costs overall.'
Prof. Stannard, one of the pioneers of negative pressure wound therapy, said that the formal evidence base for this technology is relatively modest, comprising eight truly prospective randomised multi-centre trials. However, he added that more trials are due to be published in 2010.
'For me it was not intuitively obvious that "sucking on a wound" would make it heal faster. Three explanatory mechanisms have been proposed: improved blood flow and angiogenesis, oedema reduction, and the suggestion that applying mechanical stretch to cells causes them to produce factors that help with wound healing.' Prof. Stannard added that, although he had no doubt that negative pressure helps in the conventional setting of a large open wound, he hoped to see more studies published evaluating use in clean closed surgical incisions.
Negative pressure wound therapy
How does it work? Vacuum-assisted closure creates local negative pressure over a wound bed to promote healing. A foam dressing is cut to shape and inserted into the wound. This is covered and sealed with self-adhesive film. A vacuum drainage tube is fitted through the film and connected to a vacuum source. Controlled negative pressure is then applied for as long as required.
The dressing effectively turns an open wound into a controlled, closed wound while removing excess fluid from the wound bed to enhance circulation and remove bacteria. As healing progresses the wound edges are gradually drawn together by the dressing hastening wound closure.