medical-grade
NDS announces battery-powered wireless mobile display
NDS has announced it is prepared to launch in Europe its highly anticipated ZeroWire® Mobile battery-powered display stand solution at the MEDICA World Forum for Medicine in Dusseldorf, Germany.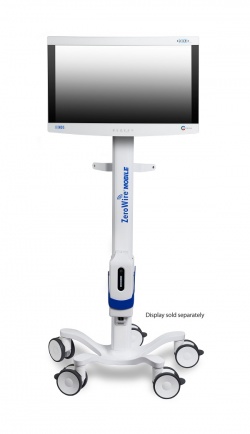 Designed to enable the untethered clinical mobility of endoscopy displays, ZeroWire Mobile eliminates the display power cord, enabling a streamlined imaging solution that can be moved or repositioned quickly and easily within the operating room (OR) or endoscopy procedure environment, and smoothly relocated from room to room throughout the facility. By reducing the number of cables on the procedure room floor, ZeroWire Mobile can help reduce clutter and minimize tripping hazards, potentially improving safety for the staff in the OR. By eliminating the need to clean and maintain cables, room turnaround time may also be reduced.
A patent-pending solution ideal for endoscopy applications where a secondary monitor is required with the added benefit of easy maneuverability, ZeroWire Mobile is designed to support NDS displays of varying sizes up to 32". The small-footprint base allows flexibility of positioning within Endo/GI procedure rooms as well as laparoscopic ORs where space is at a premium.
ZeroWire Mobile supports two cleanable battery power modules certified to power an NDS 32" monitor for up to five hours of continuous operation. Colored LED light bars constantly display battery strength and indicate when a battery power module requires re-charging. A simple "hot-swap" process allows the user to replace the battery power module immediately with a fresh battery from a wall-mounted charging system.
"Intelligent design and engineering are at the heart of every innovation we introduce," said Darko Spoljaric, Vice President of Marketing at NDS. "ZeroWire Mobile is the only self-powered, medical-grade display stand design engineered specifically for the endoscopic environment, and it is part of our proud and concerted effort to bring clinical teams enhanced ergonomics, efficiency, and cutting-edge technology in an elegant, easy-to-use solution."
A showcase product from NDS at MEDICA, November 14-17, the company will begin accepting orders from European customers only for the new ZeroWire Mobile display stand on the opening day of the event.

Source: NDS