Musica hits the high notes in imaging
MUSICA software introduced automated, exam-independent digital image processing using contrast enhancement founded on multi-scale mathematics.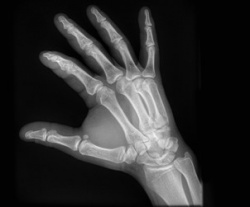 Now, Agfa HealthCare has added Fractional Multiscale Processing (FMP), to create a new generation of MUSICA that will be available soon for all of the firm's CR and DR systems.
Although the new improved version, developed with input from specialists such as paediatricians and thoracic experts in regional and international university hospitals, is much advanced, Agfa HealthCare's senior researcher Pieter Vuylsteke PhD points out that the software still provides all past benefits but now also meets the evolving imaging needs of the healthcare sector.
'MUSICA is fully automatic, very easy to use and install, and gets maximum information from a clinical image, independent of the patient's body size (adult, child or infant; slim up to obese) or of the exam type,' Jan Leeuws, Business Unit Manager of Digital Radiography added. 'There is no need to configure the image processing parameters for each exam, and the technologist doesn't need to apply specific settings for each exam type and exposure technique. That hasn't changed.'
Fractional Multiscale Processing
Nor has Agfa HealthCare's MUltiScale Image Contrast Amplification (MUSICA) mathematical principle. Developed in the 1990s, this has proved to be the most successful image processing technology for digital X-rays, the company confirms. 'One of our key design goals was to let the users obtain consistently high image quality across all exams and all patients at all hospitals, while applying a minimal radiation dose.'
Some fundamental changes have been made to the system's substructure. 'To nicely render the most difficult zones of an image, such as the abrupt transitions from low to high density areas, we have applied a new mathematical algorithm - called Fractional Multiscale Processing (FMP),' Dr Vuylsteke continued. 'With this algorithm, the image processing filters are further decomposed to elementary fractions, which are processed separately. As a result, we can represent the greyscale differences in a more natural way, without artefacts.'
FMP also eliminates the need for window level adjustment to enhance visibility of details. Several additional improvements have been made in the mechanisms that adapt the contrast, noise and greyscale of the images. In general, the images are more homogeneous and pleasant to look at for the radiologist, as well as being enhanced and represented in a very consistent way. The new software is also reported to be easier to install.
Subtle bone details easiliy visible
With its larger dynamic range, the new software offers enhanced image detail and visualisation consistency, particularly for images with large variations in signal strength. Image processing is robust and the image is always optimal, independent of the exposure technique, Agfa HealthCare reports. 'Subtle bone details often tend to fade in the vicinity of implant edges, but these details are now well preserved and easily visible,' added Dr Vuylsteke. 'I compare it to being able to hear a pianissimo passage after an explosion.'
In skeletal imaging, for example, no artificial shadows show up next to long bones or metal implants, making subtle details of the interfaces more visible. Trabecular structure is presented with improved sharpness, and there is appropriate transparency in overlapping structures, e.g. carpal bones. In chest X-rays, details from the bones, the mediastinum and lower lung area behind the diaphragm are revealed with better clarity, without impairing lung visualisation. All of which, Jan Leeuws notes, provides radiologists with more image details to aid diagnoses in less time.
'When we showed the [contributing] radiologists the new version of MUSICA, many got used to the new image presentation very quickly!' says Piet Vuylsteke. 'Once you appreciate that level of detail,' they said, 'there's no going back.'
Profile:
Pieter Paul Vuylsteke MSc PhD, who graduated in electronics engineering at Leuven's Catholic University, is Agfa Healthcare's senior scientist and expert in medical image processing, currently leading an R&D team of six experts in this field. He is the principal developer of the Musica image contrast enhancement software for digital radiography and inventor of the underlying concept of multi-scale contrast enhancement.
More on the subject:
More on companies: