Milestone for Hemo Control Haemoglobin Analyser
33,333rd Hemo Control point-of-care analyser released since 2003
EKF Diagnostics has recently marked the production at its manufacturing facility in Barleben, Germany, of the 33,333rd Hemo Control, its globally successful haemoglobin point-of-care analyser, since its launch in 2003.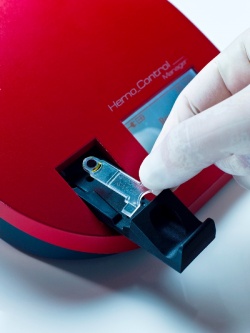 This portable and robust analyser delivers lab quality results within 25 seconds (CV of <2%) for both haemoglobin and haematocrit from one simple test and, new for 2013, includes pre-loaded data management software, Hemo Connect.
Hemo Control uses unique microcuvette technology – the NXT microcuvette. This enables precise and easy blood collection and significantly reduces the risk of air bubbles appearing in blood samples. By minimising occurrences of air bubbles in a sample, the NXT microcuvette ensures less waste with subsequent cost reductions. The NXT microcuvette incorporates two unique features – an air gap that ensures the bubble-free testing and a large blood collection opening that makes patient sampling more accurate and simpler to use than many alternatives on the market.
Hemo Connect, the new pre-loaded data management software, allows users to download test results quickly and easily from the memory of a Hemo Control device to a PC. Downloading the test results can be done automatically and up to 10 devices connected simultaneously. Downloaded test results are saved in CSV format in an export file on the PC and can be used by data management systems or standard software solutions.
Commenting on the production of the 33,333rd Hemo Control analyser, Julian Baines, Group CEO, EKF Diagnostics Holdings plc., said, "A decade on from its launch, Hemo Control is more popular than ever before, and sales of devices and microcuvettes continue to grow. Our success in winning large government orders in Mexico, Peru and Tanzania, as well as our increasing market share in the USA under the HemoPoint H2 brand, demonstrates the strength of the brand in a very competitive market."
For more information please visit www.ekfdiagnostics.com.