Light up your exams and minor ops
LED Soled15 lighting supplements the Starled Series of lamps manufactured by Acem Medical Company from Bologna, Italy.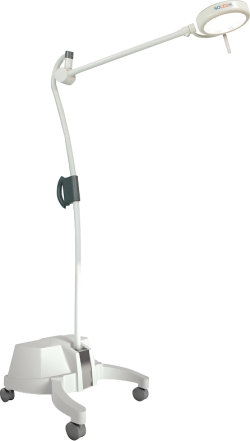 The firm reports that this model has '…excellent light intensity; IR-free light beam; colour temperature (CCT) of 4.500 °K; a colour rendering index (CRI) of 95; long life and low power consumption.
'The high technological level combined with the use of high-powered LEDs allow Soled15 to have a very linear yield and a negligible performance decay for its entire life duration,' Acem adds. 'Thanks to the high efficiency achieved, Soled15 has a light intensity of 65.000 Lux (80.000 Lux with "Boost" function) and a low power consumption (16W).
'The LEDs layout gives visual comfort and produces a uniform, homogeneous and shadowless light.'
Soled15's roundness contributes to its easy movement and suitability for diagnostics and test labs and the easy-to-grip, removable, autoclavable handle makes it suitable even for critical sanitary applications, the firm points out.
All the lamp's functions – light intensity adjustment, parts selection (SEL), brightness increase (Boost), are controlled via the I-Sense touch panel. That 'SEL' function is new. Using it, you can select single parts of the light beam and activate the desired LEDs in a sequential way according to your needs.
'Boost' is used to reach a maximum light intensity when the light field is wide. This approximate 20% increase deactivates automatically after five minutes.
Soled15 can be ceiling, wall, trolley mounted (battery on demand) – just make your choice.