Light that throws no shadows
Designed for diagnostics, minor surgery and universal applications, the Soled LED examination light is a helpful tool for use in intensive care units, the recovery room, for first aid and more.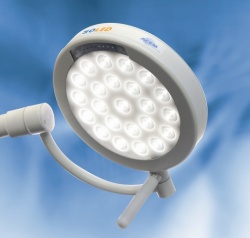 The model supplements the Starled Series range of lamps manufactured by ACEM Medical Company. The firm explains that this flexible product assures 'excellent light intensity, IR-free light beam, colour temperature (CCT) of 4.900°K, colour rendering index (CRI) of 95, long life and low power consumption. 'The high technological level combined with the use of high-powered LEDs allow it to have a very linear yield and a negligible performance decay for its entire life duration,' ACEM points out. The Soled LED has a light intensity of 65.000 lux and a low power consumption (35W). The easy-grip removable and handle can be sterilised, so is suitable for critical sanitary applications, the firm notes. The lighting is available for ceiling, wall or trolley mounting.