Sponsored • Illumination
LED lamp distributes shadow-less light
STARLED5 NX, surgical lamp with LED technology boasts an excellent light quality, the specialist manufacturer ACEM reports.
'The special optics of its LEDs generates a shadow-less, clear and homogeneous light assuring visual comfort and best working conditions for surgeons and medical staff.' The lamp, under every condition, generates an IR-free light, excellent colour temperature and a practically endless life cycle at low consumptions, the firm adds. 'The 43 LEDs which make the Starled5 NX are circularly positioned and divided into five reflectors (with seven LEDs each) and other eight LEDs are radially placed around the handle. In this way, the lamp produces a high illumination level of 130.000 lux (160,000 lux optional) for a steady life cycle of about 50,000 hours.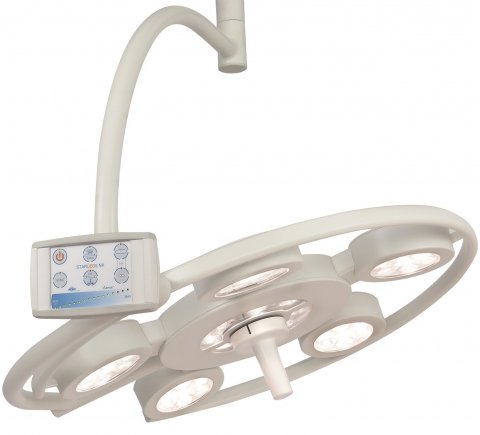 Acem's development ACRIS ensures, via a microprocessor, the control of electrical curves typical of LEDs, to remain unaltered over time but maintaining a long life cycle, the company reports. 'The colour rendering index of √ is 95 and its colour temperature 4,500 K.'
The lamp can produce a focused and ambient light, and the light field focusing system adjusts the light spot diameter accurately assuring an excellent sharpness of details in the operating area, Acem confirms.
Starled5 NX is particularly suitable for minimal invasive surgery and is ideal for the preparation and treatment during the operation, monitoring of the patient and microscope operations. It has been designed for comfort and is light to move, due to its central handle, and the medical team can move it from the lateral handles assuring stability and constant illumination even during movement.
The removable and sterilisable central handle also can house a video camera to video surgical operations accurately (alternatively, the video camera can be placed on a separate arm).
'The lamp shape assures visual comfort and is particularly suitable for laminar flows in the operating room,' the Italian firm adds. 'All the functions of Starled5 NX are managed by the handy, digital and easy-to-read I – SENSE control panel positioned on the cardanic structure and adjusting.'
ACEM is at MEDICA: