Landwind - winning customers with quality and service
The suggestion that a Chinese company will emerge in the future as the dominant provider of ultrasound systems in Europe made Landwind Managing Vice President Wang Guozhong smile before he then confirmed: 'I'm confident that, with our strengths in research and development and the importance we place on customer service, Landwind can make this happen even sooner.'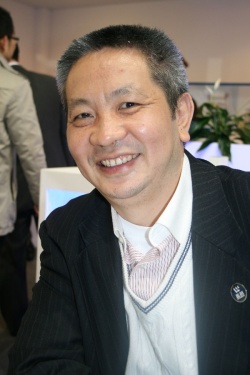 Speaking about reactions to his firm's new handheld ultrasound scanner at Medica this year, Wang Guozhong said it proved to be the most popular product, attracting a surprising range of customers to the firm's stand. 'This palm-size personal imaging instrument can be used anywhere and is very special in the European market,' he pointed out. 'The digital image acquisition creates unique advantages over analogue imaging of other portable scanners.'
The high-resolution, anti-glare display impressed clinicians and veterinarians, who said they were surprised by the high quality from such a small screen, he added.
The touch-screen interface and long-life battery also gained plaudits from customers.
At the high-end of the ultrasound product line, Landwind also introduced to Europe its Mirror2plus, an advanced colour Doppler system.
Designed as a shared service system to support a range of applications, such as general imaging, OB/GYN, cardiology, peripheral vessels or urology, the Mirror2plus is loaded with powerful features and accessories to enhance diagnostic confidence.
Landwind's R&D efforts are focused on adding further new features to the high-end Mirror product, and customers can expect to see a Mirror3 arriving next year that will include new functionality and an expanded line of probes. Elastography is also being developed for inclusion in future product offerings.
Yet, for Wang Guozhong, Landwind's most important new product is the mobile digital radiography (DR) system. 'We believe that the KeenRay digital radiology systems will become the largest product line for Landwind in the future,' he pointed out. 'There is clearly a steady progression to digital radiography in Europe,' because it offers more functions and greater advantages that are making diagnostics easier, while adding the ability to better process and manage patient images.
One year after introducing the DR200Mate, Wang Guozhong reports sales in Europe are meeting the company's expectations, while in China this mobile system recently helped to win a large tender that included 28 units.
The C-arm design of the DR200 Mate means diagnostic imaging enables radiology examinations anywhere, including at the bedside, with a large-area flat-panel detector that can be positioned without displacing patients or requiring repositioning that may be difficult.
The ease of operation and optimised clinical workflow include features such as integrated anatomical programmable radiography (APR).
Images are displayed on a 15-inch LCD touch screen and the DR workstation offers advanced pre- and post-processing functions and Dicom compatibility.
Recently, Landwind has also extended its product offering for in vitro diagnostics with the LWC 360 automated chemistry analyser capable of a through-put of 360 tests per hour. Wang Guozhong reports that the company is now seeking a CE mark for an enhanced processor that will run 400 tests per hour and offer an automated washing system with low water consumption.
The Managing Vice President also explained that Landwind's strategy is to continue expanding its current line of products for European hospitals while preparing to enter into new areas such as anaesthesia, ventilators, and haemodialysis.
'An important objective for Landwind is expanding our offices for service and training in Europe, South America and Asian markets,' he said. 'Currently we are working with our distributors in these regions to set up offices.'
While Wang Guozhong agrees with other market experts that an increased pressure on pricing is likely in European markets in some product categories, '…our objective continues to be to build on our strong R&D capabilities to assure the highest quality and build trust through good service to our customers.'