It's time for Stockholm!
Five days at ESC 2010, the world's biggest international cardiology meeting -- with the Spotlight 2010 strongly focused on "Coronary Artery Disease: From Genes To Outcomes", but yes, so much more, too. This year's programme is based on 4167 abstracts selected from more than 9,500 submissions, as well as over 120 Hotline and Clinical Trial Update presentations. From these, 35 Hotline sessions will take place.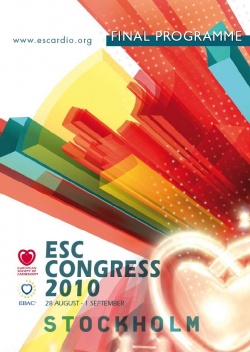 Professor Fausto Pinto, the Chair of this year's Programme Committee who pointed out that coronary artery disease (CAD) is still the number one cause of death in the developed world, said that the Stockholm programme will show '… how developments in basic science are now being translated into clinical progress in the early diagnosis and treatment of CAD. This is an area that involves the laboratory and the clinic, and a range of specialists that includes technicians and nurses, family doctors and consultant cardiologists. They will all play a part in this year's programme.'
The Focus session on clinical cardiology and Meet and Read with the Experts session continue, but there's also a brand new one-day programme (predominantly aimed at Scandinavians) for general practitioners, primary care physicians and nurses, during which experts will discuss various aspects of current problems in cardiovascular diseases (CVD).
In recognition of the contribution of nurses and laboratory technicians to patient care, the ESC has also organised several nursing CVD research sessions that will run throughout the congress.
The educational Cardiologists of Tomorrow event is aimed at younger cardiologists as well as those needing a refresher course, and the new Best of the European Heart Journal (sessions dedicated to the best published papers); Meet the Humanitarian Mission and scene@ESC round out and enhance a full and varied programme.
Four major new guidelines will be presented by the respective Task Force Chairs and the differences and similarities between the European and the American Guidelines will be highlighted.
The new ESC Clinical Practice Guidelines to be presented in Stockholm will cover Grown-Up Congenital Heart Disease, Atrial Fibrillation, Myocardial Revascularization (with EACTS) and Dyslipidaemias (with EAS).
The loss of Dr Helmut Drexler, who died suddenly last September, aged 58, saddened scientists internationally, among whom he was seen as a brilliant light. Among his many attributes, Dr Drexler led the Cardiology and Angiology Department at Hannover Medical School, was Senior Investigator for the BOOST study, a pioneer of translational research in cardiovascular medicine and renowned in the field of stem-cell research.
Our cardiologists of tomorrow
Looking to the future, this year the ESC leadership offers a dynamic new programme and forum covering the following categories:
• Cardiologists-in-training
• Junior Cardiologists under aged 35
• First time attendees interested in refreshing their knowledge
Chaired by a senior cardiologist, accompanied by a panel of younger colleagues, the session has been organised by young cardiologists for young cardiologists, significantly reflecting how an emerging network of Young Cardiologists Organisations is making its mark on the ESC and member National Societies. The forum will represent this network and focus on three cases of particular note for the junior and cardiologist in-training. (31 August. 8.30-10 a.m.)
Hot Line topics
The Hot Lines this year are impressive indeed (see box) and some will be re-presented in Meet the Trialists sessions. Additionally, they can also be seen as webcasts, when delegates will have a chance to submit questions to the principal investigator and other participants.
Immediately following the session, slides for all Hot Lines will go online for those unable to attend the ESC.
A fittingly important tribute to the life and work of scientist Dr Helmut Drexler is also scheduled (see box for details).
And finally -- Five 90 minute sessions will highlight the major messages of the ESC Associations' Congresses, or major breakthroughs in their subspecialty over the past year.
Participants:
• The European Association of Echocardiography (EAE)
• European Association for Cardiovascular Prevention and Rehabilitation (EACPR)
• European Heart Rhythm Association (EHRA)
• Heart Failure Association of the ESC (HFA of the ESC)
• European Association of Percutaneous Cardiovascular Interventions (EAPCI).
Five days in Stockholm – Certainly these will be memorable for cardiologists and all those working in this field in 2010 – and will portend an abundance of ramifications for future developments and most certainly for those afflicted with cardiac disorders.