iSOFT Alive and kickin'
New strategy New self-confidence
Once upon a time iSOFT was the software 'wunderkind', with sales hitting the billion-euro mark. Then disaster struck. Money and reputation vanished. But that was once upon a time… today iSOFT is back - with fresh strategies aimed at a happy ending. Daniela Zimmermann, of European Hospital, met with Peter Herrmann (above), Managing Director of iSOFT Deutschland, to discuss old mistakes and new plans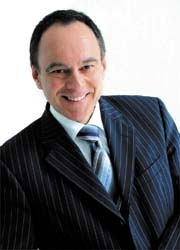 Peter Herrmann: The English parent company caused the turbulence, which, in turn, affected the entire group. The media, particularly the English-language press, covered our story in detail. There were three major issues leading to iSOFT's troubles: First, we were unable to meet the high expectations the market had placed in us, which forced us to issue profit warnings on the stock exchange. Next, there were delivery delays due to a lack of co-ordination between the systems integrators in England, which obviously didn't please our customers. And finally, we were a bit overly optimistic in posting sales regarding licences and got out of sync with the actual time frame of projects implementation. What this means is that we recorded sales quite early but then – with the delays – had to post losses for quite a long time, so the overall picture looked skewed. All those factors led to substantial changes within the company - most prominently on management level, with the chairman, John Weston, temporarily also acting as CEO. It was he who brought in a consulting company to develop a restructuring plan, which led to the new iSOFT company strategy.
A crucial part of this strategy is the improved co-operation between individual countries. In the past, iSOFT was a conglomerate of basically autonomous national companies, which all more or less had their own agendas. That will change. We will present ourselves as a unity so that each of us can profit from their own successes and that of the others. Case in point: Germany. Our lab solutions have been very popular for some time; we are the undisputed market leader. Compared with iSOFT solutions offered in other countries, the German version is also convincing. In the past, our head office did not acknowledge this, but now the German solution will be implemented internationally. This means that, in the future, the centre of competence 'laboratory' will be based in Germany.

To identify best practice, other solutions will be evaluated. For example, the German radiology solution has very good chances to prevail within the group internationally.

We also moved competencies from our development centre in India back into individual countries. It turned out to be a mistake that management of the current product range had been moved entirely to India - it was more than the Indian organisation could handle particularly because they were also busy with our new development - Lorenzo.

With the company restructuring, the individual countries can again take over and manage systems that are marketed locally, whilst colleagues in India continue to focus on Lorenzo.

Is Lorenzo iSOFT's answer to your competitors' systems?
As a matter of fact, Agfa or Siemens tried to counter our Lorenzo SolutionCentre with their solutions. The idea and design for Lorenzo (an intersectoral IT system for healthcare economy) are already a couple of years old. Nonetheless, it is still so innovative that, so far, our competitors haven't really been able to come up with an answer. Our solutions for administration, clinical & care, radiology and lab are convincing. They offer an unmatched breadth and depth of functions. The competition is still lagging behind.

Lorenzo should have hit the market like a bomb. Why hasn't it, if the product is ahead of its time?
That's not quite correct. Look at the huge success in England; and also we recorded quite impressive sales shortly after its launch in Germany. We count leading healthcare facilities among our customers and partners. But yes, we could not yet establish Lorenzo as a major contender. Therefore, when restructuring, we scrutinised everything – the philosophy, concept, design –everything! We couldn't identify a single fault. What might have been our weak point was the lack of consistent implementation of the entire product strategy - to bring to market exactly what was on paper. We will do that now, but obviously we lost a lot of time and gave our competitors a chance to gain ground.

But in England you have another ace in the hole: iSOFT's Lorenzo is part of the world's biggest IT project - the National Health Service's National Programme for IT (NPfIT).
Right! Lorenzo's roots are in England and the NHS project was a major driver for us - not surprisingly, since this project will radically change the structures of the healthcare system. Projects such as Lorenzo benefit from the sheer volume of the NHS programme and enable development. But there are also two sides to this: Such a groundbreaking concept cannot always run smoothly. To avoid dependence on a few companies the government created several regions and contracted different firms for each region. As soon as something goes wrong with one company in a region, all other companies in that region are also blamed. That's unfortunately what happened in two regions in which iSOFT participated with Lorenzo. However, we are still very successful in the NHS project.

Will other European countries do the same as the Britain?
Other countries are about to get started, but England is the avant-garde. One reason is that the English healthcare system was not as decentralised as, for example, Germany's. This means the Ministry of Health has more power to implement things, to drive ideas and developments. But, we have to admit that healthcare IT in European countries does not yet rate as high as in Britain. However, if the English model is successfully implemented, I imagine other European countries will follow.

Could other languages cause a problem for Lorenzo?
Not really. Lorenzo was designed for the international healthcare market. The core product - areas that are identical worldwide - is handled by an international project management team made up of English German, Dutch and so on. As for adaptation to different systems, in my opinion the major part of the effort to develop such a system is replicable. In England, a patient's record, for example, is very similar to that in Germany. Obviously there are differences – for example reimbursement systems, or the legal framework for quality assurance. But Lorenzo is a modular system, which means we have a fixed core around which we build the different modules. For Germany, for example, we can provide a DRG-based reimbursement model without having to redesign the entire system.

So, we believe the Lorenzo SolutionCentre has enormous potential. Moreover, we want our successful RIS – the market leader in England and Germany – to profit in the long run from the state-of-the-art Lorenzo technology. We will continue to resolutely develop both our radiology system (RadCentre) and our lab system (LabCentre). In addition, we want to position iSOFT more strongly in markets in which, in the past, our distribution partners took care of our products. In those European countries where iSOFT is already well positioned, we see a lot of potential for growth over the next few years – particularly for Lorenzo – as far as follow-up products are concerned. All in all, we have ambitious plans and are optimistic that we will realise them successfully.
More on the subject:
More on companies: