Ultrasound
Interventional radiology benefits from touch screen-operated technology
Dr Alex Horton, Consultant Radiologist at the Royal Surrey County Hospital NHS Foundation Trust in the UK, discusses how the latest development in point-of-care ultrasound systems, SonoSite's X­-Porte™ Ultrasound Kiosk, combines good image quality and robustness in a way that is ideal for use in the interventional radiology suite.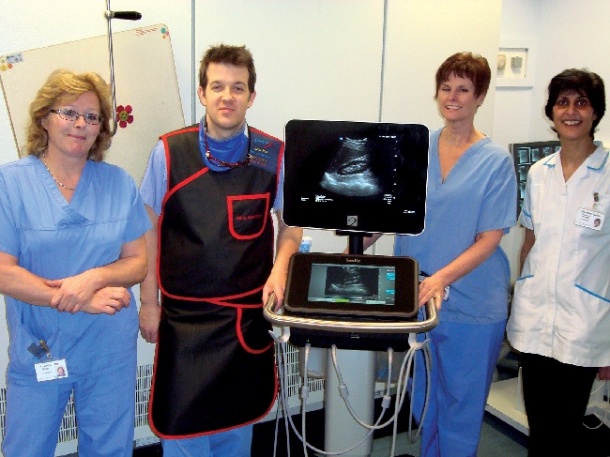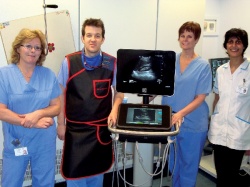 The number of interventional radiology procedures performed under ultrasound guidance has grown significantly, generating a need for high quality ultrasound imaging systems suited to the technique. While the large high-end systems generally found in radiology departments have excellent imaging capabilities, they tend to be complex, difficult to move around, occupy a great deal of space and represent a significant financial investment. Although many manufacturers produce smaller laptop-based portable instruments, few of these point-of-care systems meet all the needs of the interventional radiologist; good image quality, appropriate size, long battery life, rapid boot-up time, ease of use and portability. While many provide acceptable image quality, compromises are frequently necessary with respect to battery life, screen size or simply the sheer number of mechanical controls.
SonoSite's X-Porte Ultrasound Kiosk, a touch screen-operated system, is a new generation of point-of-care ultrasound instruments. Aesthetically very pleasing, it is ideal for the interventional radiology suite, offering a cost-effective solution combining good image quality with a small footprint. Unlike many conventional point-of-care ultrasound systems where the image size is much smaller than the actual screen size, the X-Porte Ultrasound Kiosk enables a high quality, full screen image to be displayed on the main monitor, while simultaneously projecting a visual representation of the imaging field of view onto an iPad®sized touch screen. Simple, intuitive touch and gesture controls, on-screen guidance and built-in electronic manuals enable effective use of the system with minimal training.
Operators can rapidly alter the gain, brightness and depth, perform distance measurements or switch to colour Doppler to check blood vessels, essential in an interventional environment where adjustments need to be made very quickly. Touch operation also makes the X-Porte easy to clean in a clinical setting, where infection control measures are crucial; the mechanical controls that could trap pathogens have been eliminated, and the entire system can be wiped clean after use. The touch controls can even be operated effectively with gloved hands.
Further significant benefits of the X-Porte Ultrasound Kiosk include its ability to generate a useable image within half a minute of switching the system on, and its portability, providing additional flexibility to be able to use the system elsewhere in the hospital if necessary. These features, combined with its good battery life, a five-year warranty and SonoSite's reputation for robustness, make the X-Porte a very appealing prospect for an interventional radiology suite. At the Royal Surrey County Hospital NHS Foundation Trust, the X-­Porte Ultrasound Kiosk has been in use every day since its recent purchase and, with image quality akin to some of the large departmental instruments and its large, clear display, it is proving a real asset to the department.

More on the subject:
More on companies: