In the future, IT will be seen as an integral part of medical technology
For many years, MEDICA, the world's largest medical trade fair, has devoted a special section to healthcare information technology. In an EH interview, Horst Giesen, Project Director of MEDICA, COMPAMED and REHACARE, spoke of the valuable insight into current medical IT that is offered to exhibition visitors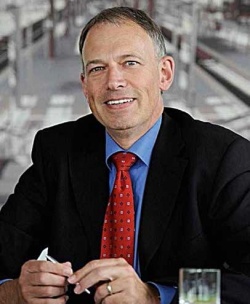 At that time, telematics was deemed to be of particular importance. In 2012, what has changed with the introduction of the MEDICA Health IT Forum?
'Yes, Medica, was among the first to feature telemedicine and there's been a lot of development over the years regarding its content. With the launch of the Medica Health IT Forum, we intend to present these innovations with special consideration to complete, interdisciplinary treatment processes, along with the associated interface problems. We're aiming to feature the range of exhibits as well as the cohesion of medical technology and laboratory and imaging diagnostics through integrative, and now omnipresent, information technology and health IT respectively.'
There are still individual, specialised software applications that you are handling a bit like a circus attraction.
'You are referring to apps. The importance of mini-applications for smartphones and tablet computers is increasing tremendously. Therefore, we'll present the first "App Circus" at Medica 2012 in a cooperation with "dotopen", a Spanish innovation platform. This will provide an opportunity for companies from different countries and business sectors to introduce their best health-apps. 'With this new programme element, Medica catalyses the exchange of knowledge between developers and start-ups as well as that of potential users and project partners – and funding bodies respectively – in the field of medicine. The enormous application and distribution potential of health apps will shape how we deal with medicine – whether at home, the doctor's surgery or in a hospital. 'For example, there's the "MyPill" app, which helps women to control the (correct) intake of oral contraceptives, and there are apps that make dialysis at home easier and safer. A lot of testing is now being carried out in this field. These are only two examples of the numerous, exciting apps, many of which are bound to make a triumphant entry into the healthcare sector. 'The "Medical App of the Year" awards will honour the most outstanding apps in this area.'
Which other IT landmarks and stands would you point visitors towards this November?
'In Hall 15 the Medica Health IT Forum is dedicated to the three IT trends in healthcare: eHealth, mHealth (mobile Health) and pHealth (personalised Health). 'In the mobile health sector Medica is yet again at the forefront. We've been discussing this topic for years and already presented it at Medica when nobody else was talking about mHealth. The rapid increase in the number of smartphones and tablet computers as the drivers of mHealth development was obvious to us very early on. 'We are also very much at the forefront with our "Wearable Technologies Show", a unique podium for red-hot developments in technologies that can be worn on or near the body. Through their connection to telemetric systems these wearable technologies – be it in the shape of market-ready products or prototypes and research projects – are expected to open up entirely new and costeffective opportunities for prevention and treatment, and all this with hardly any impairment of mobility for patients, thanks to miniaturisation and wireless data transfer (wireless medical telemetry).'
Ultimately, how do you perceive the development of Medica in the future, with its vast range of medical technology and increasing number of IT solutions?
'I believe that both areas will merge. IT as a stand-alone, isolated sector will become less important. Sooner, or later, IT will be integrated into the medical technology branch, because, as I said, IT is not an end in itself. All systems that have little in the way of integration with medical devices will find it much harder in the future, and to us this means we must be ready to face this challenge and must visibly communicate to visitors that IT can not only be found in the IT hall but in fact in all areas and halls at Medica.'