First hand experience
Improving point-of-care ultrasound training in intensive care medicine
Dr Sven Ballnus is Director of the Department of Intensive Care Medicine at the Hospital Centre Biel/Bienne, Switzerland, and an active member of the European Society of Intensive Care Medicine. Formerly a chief consultant in intensive care medicine at Westküstenkliniken in Heide, Schleswig-Holstein, Germany, he oversaw the development of an ultrasound course focusing on the specific needs of point-of-care scanning in an intensive care setting, and discusses the benefits of specialist training in critical care medicine for the healthcare system in Germany.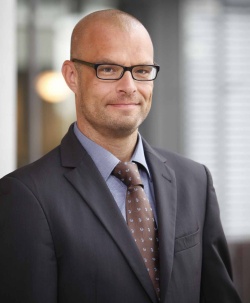 Intensive care medicine is a multidisciplinary specialty which requires a thorough understanding of various elements from several specialist fields, including anaesthesia, internal medicine and surgery. The job profile of an intensive care physician therefore requires a range of skills to be learnt from different disciplines, so they can be applied promptly at the bedside of critically ill patients. Nevertheless, intensive care medicine is not widely recognised as a distinct specialism in the German healthcare system. The vast majority of hospitals operate with 'open' ICU systems, where departments with inpatient beds in the unit are responsible for specialist treatments. Despite its theoretical advantage, this approach promotes a high degree of specialisation outside of high dependency clinics, to the extent that there is often a lack of experienced specialists for the initial care of critically ill patients, particularly during shifts and at off-peak times. This hinders the optimal process flow and, in comparison, it is known that 'closed' intensive care concepts may have a positive effect for both patients and on the hospital budget.
A major drawback in the lack of a specialisation model is that specialists from each discipline only effectively receive theoretical and practical training based on their respective disciplines. There are limited opportunities for multidisciplinary training and further professional development, although this type of approach is precisely what would be needed for professionalised intensive care.
Dr Ballnus explained: "Ultrasound diagnostics in intensive medicine is geared towards solving problems. Examination findings are integrated with other information from the clinical context, and clinical or therapeutic decisions are then made based on this overall picture. With regard to bedside diagnostics, acute medicine has established standardised protocols, such as FAST (Focused Assessment with Sonography for Trauma – ultrasound diagnostics for the rapid detection of free abdominal fluid) and FATE (Focus Assessed Transthoracic Echocardiography - ultrasound diagnostics for rapid assessment of cardiac function)."
The use of ultrasound techniques for diagnostics of intensive care patients, and for decision guidance regarding the consequences of treatment, is becoming increasingly popular in Germany. Dr Ballnus continued: "During my time at Westküstenklinikum in Heide, I was able to establish a multidisciplinary course along with colleagues from cardiology and radiology. The course, based on an existing Swiss training programme for aspiring intensive care specialists, teaches problem-orientated ultrasound techniques specifically for use in acute and intensive care. In contrast to many modular ultrasound courses, this course focuses on techniques needed to perform quick overviews of haemodynamic function, as well as for the quick detection of remedial risks so that they can be promptly averted. Furthermore, this course provides the basis for ultrasound-guided use of invasive techniques, such as the placement of catheters and drains."
"In the course for more advanced users, as well as teaching specialised techniques like transcranial Doppler examinations (TCD), the emphasis is on the integration of sonographic findings within the context of intensive care. So, for example, when assessing a valve defect, the influence of ventilation is taken into account, as this has a substantial influence on cardiac afterload and pump function."
In addition to other information that an ultrasound can provide, its primary benefit in acute and critical care is the rapid assessment of the essential determinants of cardiac output, which contribute to ensuring an adequate oxygen supply. "Securing adequate oxygen supply within the context of a case of shock is essential, regardless of aetiology. By performing a bedside ultrasound examination, it's possible to assess the main determinants of blood flow within a few seconds and to promptly detect a preload or contractility problem, for example. Standardised protocols, such as FATE, help in this respect, because less-experienced staff will have the opportunity to quickly and reliably orientate themselves with these techniques. Rational strategy and treatment planning can then be carried out based on this orientation."

The support of ultrasound instrument manufacturers such as SonoSite is essential for the expansion of educational initiatives like this. Dr Ballnus agreed: "By providing loan instruments, along with training support such as e-learning resources, a company can actively participate in such specialised courses. A close dialogue with manufacturers is equally important for the further development of the next generation of ultrasound equipment, with the view to applying time-critical standardised protocols."
Source: FUJIFILM SonoSite, Inc
More on the subject:
More on companies: