RFID
Identifying the best hospital safety technology
On the occasion of the Euro ID and ID World International Congress 2014 in November in Frankfurt am Main, Germany, EH asked about the role of Radio Frequency Identification (RFID) in healthcare, during her interview with H Sprague Ackley, Technical Fellow at Honeywell Scanning & Mobility.

Report: Cornelia Wels-Maug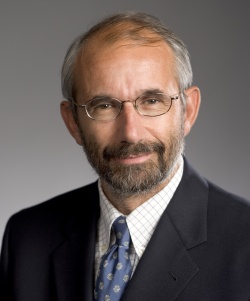 On the occasion of the upcoming Euro ID and ID World International Congress 2014 in November in Frankfurt am Main, Germany, Cornelia Wels-Maug asked about the role of Radio Frequency Identification (RFID) in healthcare, during her interview with H Sprague Ackley, Technical Fellow at Honeywell Scanning & Mobility, and a member of the ID World International Congress Committee
Euro ID 2014, the only global conference covering all the technologies of automatic identification (AIDC), will provide an overview of technologies used for identification purposes across a diverse set of industries, H Sprague Ackley explained, qualifying these as 'technologies like barcodes, biometrics − such as iris and facial recognition, RFID, RFID in connection with voice, smart cards, magnetic stripes, Optical Character Recognition (OCR) and voice recognition will be on show.'
Are certain ID technologies better than others for healthcare?
'Today, basically all common AIDC technologies are used in healthcare. The technologies work together. For identity purposes in a hospital, you can, for example, use a wristband with either a barcode or an RFID chip integrated. The decision as to which technology to employ is typically not taken out of a technological rationale, but on business considerations. A cost-benefit calculation determines which technology to use; in most cases the answer is barcode. That's why the healthcare world is full with barcodes. However, there is a trade-off between price and level of security. Although barcodes work well, especially for tracking specimens, they do not offer authenticity benefits and can be easily copied.'
What role does RFID play in healthcare?
'RFID is used in various applications, from patient, document and file tracking, medication authentication, management of facilities, assets, inventory, laundry and access control – and not all uses have been invented yet.
'An RFID system is based on the usage of radio waves, RFID tags and RFID readers. The tag, which has a unique identification number and an antenna to send and receive radio waves, can be attached to an object; this allows the object to be tracked. In many supply chain applications a single tag can be used over and over again but for authenticity applications, once a tag has been used, it must be destroyed. RFID operates in an unlicensed spectrum space and the specific frequencies used in a country depend on national regulation.
'Although RFID is more secure, it is more expensive than barcodes and therefore is an uphill sell to push RFID in apps that have, so far, worked well with barcodes. Nonetheless, RFID can also do more than barcodes. Take the example of a medication that needs to be kept at a certain temperature – a barcode cannot keep track of environmental data. However, by attaching sensors to the packaging of the medication, an RFID tag can log information about the medication's environment at certain intervals and it is possible to obtain this data at any time simply by reading the tag.
'In the above example, a thermal sensor would be required, but there are other sensors to determine whether a specific object was dropped, exposed to light, or where it is actually kept. RFID offers a cost effective way of monitoring medication freshness and authenticity – but will RFID ever replace barcode? I think this is unlikely because barcode symbols are much less expensive than RFID tags and barcode scanners are competitively priced.
'However, there is also a case for using barcode and RFID in tandem, as an additional layer of security, for example in tracking patients, because barcodes can be damaged and RFID readings can be jeopardised. The latter can occur if there are multiple RFID tags in close proximity to each other. In this incident, an RFID reader might be scanning more tags than intended or not reading the right one. To remedy this, a supplementary barcode can be used to ensure the correct readings are taken.'
Where and why is RFID particularly useful in healthcare?
'RFID really excels when stakes are high, for instance when patient identities are confounded, or something valuable goes to waste because it's handled incorrectly. This is particularly true for medications. Patients die due to the administration of wrong drugs, so medication authorisation screams for RFID because its usage for this purpose is still miniscule.
'The second high profile use for RFID is in to ensure the freshness of an item, to demonstrate that the supply chain has not been breached; for example, has the medication or sample been kept at the stipulated temperature? 'In my view, these two are big and exciting opportunities for RFID. 'Healthcare, of all industries, stands to gain the most from RFID, ultimately because lives are at stake.'