Ideaworks
Brenda Marsh reports
Many years ago, five self-made millionaires were interviewed about their work. The last question posed was: 'Is there one thing to which you could attribute your enormous success?' Without hesitation, four answered: 'Energy!' The fifth quipped, 'Luck'. By the law of averages energy is thus a vital ingredient. However, there are many other essential assets and luck is the least of them.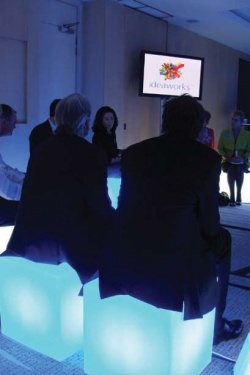 Meeting the Cohen brothers – Brian and Gary, not the famous Hollywood pair with no 'h' in the name – you easily recognise other factors for global success, theirs in IT for business and healthcare. They share genuine interest, commitment, stoicism and the ability to embrace future concepts far beyond those of today.
In 1968, their Australian family faced a tragedy when 16-year-old Brian's broke his neck in a diving accident. During his next 12 months in hospital the youth demonstrated stoicism by dictating his exam answers to gain his Higher School Certificate. Among all the entrants in the whole of New South Wales, Brian ranked 100th in maths; he won a university scholarship and government assistance. Majoring in computer science he then scooped the university science medal, later gaining his doctorate. 16 years after the accident, the quadriplegic headed for Singapore to found his first software firm. Gary, who had studied law, entered the world of investments before joining his brother's enterprise. In 1995, the IBA eHealth Network had 10 employees and $2 million in revenues. Later, with 600 back room employees working in Bangalore, IBA extended its sales in Southeast Asia, the Middle East and New Zealand. Its market value rose to an estimated $500 million.
IBA, already the biggest IT firm listed on the Australian Stock Exchange and the leading regional IT provider in Australia, New Zealand, China, India, the Middle East, South Africa and South East Asia, then aimed to add to its
acquisitions the British firm iSOFT plc, despite the fact that it was six times bigger than IBA. This was a 'David and Goliath' scenario. Although iSOFT had contracts to supply IT within the massive NPfIT, as well as international operations in the Netherlands, Germany and Spain, the firm was in trouble.
Then, as Gary Cohen put it, along came this '…pissy little Australian company, wanting to take over a British institution'. After a long battle, he said: 'I came back with a slingshot and we took it over'. That was in 2007.
Today the IBA eHealth Network employs over 4,500 people in 38 countries, with $540 million in revenues, 13,000 customers and a continuous flow of international acquisitions and contracts. The road has not been without rocky obstacles. Subsequent to settling part of their loans, it was reported that the brothers' stake in IBA dropped to 7%. However, in the medical software sector, the company is not affected by the global downturn, Gary Cohen pointed out optimistically. In May 2009, IBA Health Group Ltd changed its name to iSOFT Group Ltd.
Focusing its R&D on three IT for healthcare areas, iSOFT aims not to undertake pure research but to work with innovators and academics to explore the issues, implications, opportunities and challenges presented by innovation, to better prepare and enable the practical application of those advances within the healthcare environment.
The future
In October, the firm launched IDEAWORKS for Healthcare. Hosted by iSOFT's Clinical Innovation team led by Dr Michael Dahlweid, its global Chief Medical Officer, the event was held in The Grove, a ritzy English country
hotel. This launched a neutral online platform on which anyone can participate (www. ideaworksforhealthcare.com) to share and discuss ideas to improve IT innovations and therefore healthcare delivery. The invitationonly event drew 200 guests, among them some of the most innovative and radical thinkers on future healthcare, to explore new technology and concepts focusing on personalised medicine and genomics, the semantic Web 3.0, and the human/machine interface. Visually, IDEAWORKS had all the magic that IT promises. Against a stage background that changed from one colour to another, and next to a splendid, colourful 3-D Perspex model of the logo (reminiscent of the crystals on Planet Krypton, Superman's birthplace) speakers discussed the potential of healthcare IT in the works today and those that could lead to enormous advantages in the future. Launching Ideaworks, Gary
Cohen referred to Lorenzo, iSOFT's successful electronic patient's record (EPR), which is web-based and has distributed architecture on which users can add the functions they need. Such innovations are necessary to advance healthcare for years to come but, he said, 'We started with our own innovations. What is the clinical world saying? We also need to do more. To do this, we can't do it alone. This is a focused presentation, to help drive
good healthcare delivery more efficiently.'
Dr Glyn Hayes MD, Secretary General of EUROREC and President of UKCHIP, who has advocated computerised healthcare for 40 years, showed a photograph of himself with a patient – and, between them, a computer. It was taken in 1978, when he began work as a general practitioner (GP). The computer was there to help the patient, he stressed. 'The hardware has changed but the principles have not.' Today, he added, UK GPs are the most heavily equipped in the world but 'None of it matters unless it benefits patients.'
The question in Britain is: Hospitals are big expensive things, do you really need them for as much as we use them? Healthcare has been devolving for some time, and care is increasing being delivered within primary care, with patients monitored at home. Telecare is one way to reduce the cost of delivery, he said, but there's a natural reluctance to change. There is also the danger of management regarding EPR as a data collection tool. They should become used to the fact that the systems are not just for administration, but are important for the delivery of care.
In terms of the patients' adaptation to electronic healthcare, he said: 'Some will be completely lost. Once out the door of a surgery, a patient forgets 80% of what's been said by the doctor' and 'The clinical narrative requires an architecture that reflects direction and care. The terminology is essential but not easy. We must allow pictures and patterns to emerge'. This led to a delivery by journalist, author and sociologist Malcolm Gladwell, New Yorker staff writer and author of "The Tipping Point" and other best sellers, who began by outlining the dramatically different approaches to innovation of Picasso and Cezanne, and a pop group whose compositions took years of
evolution – 'something no record firm would tolerate today' -- and referred to an engine developed by the Japanese over 20 years.
The technological path towards innovation is uncertain, he pointed out, but 'You'll stumble upon all kinds of dividends.' The question is 'What is innovation?' 'They've defined healthcare as a package driver,' he said. 'That worries me -- "We are seeking a solution to the problem". IT innovators need to convince people that's not the way…. All of you have lived with technology uncertainly. You are used to working in a complex world, but remember, people outside your world are not. You have to convince them that this is not something to be frightened of, but to embrace.' Cezanne, he pointed out, had to find the way he wanted to paint and then convince his public about his kind of art. In any innovation advances there is usually a gap between invention, public perception and acceptance.
iPod, he pointed out, was promoted not as an electronic device but as a fashion accessory. To encourage seat belt wearing in the US, children were first approached with the message and they then influenced adults. 'It's not about
coming up with better and better IT solutions, but changing the framing,' he proposed. People are now more excited by innovation and even recalcitrant patients can accept things if a doctor says so -- and they see their doctor actively engaged with a computer.
David J Brailer MD PhD, Chairman of the venture investment firm Health Evolution Partners, focused on US healthcare reform. In 1907, life expectancy there was 47 years. Due to medical advances, in 1970 life expectancy was 72 years. Unbelievable, he exclaimed. In 2220 could it be 118 years? 'When I began leading this effort in the USA, very simple computer tasks had a big impact. 50 years on, IT is seen as one of our great revolutions. However, though money has been allocated for health IT, no one knows what's going to happen. Can we fund these long term questions in the US? You are more advanced in IT than us – the US has the ball in the air.'
One of the most tangible examples of IT value was demonstrated by Erika Karplus, Vice-President for Market Development for Proteus Biomedical. Focusing on personalised medicine and genomics, she said: 'This focuses on the hand-held computers we all carry.' Combined with therapy monitoring using microchips (in tabs) cell phones could transmit the heart rate, etc. and, for example, behaviour patterns, e.g. detecting activity/ sleep, step count, heart rate and so on. It could indicate non-adherence to a drug regimen, and then a patient's overdosing to catch up.
To demonstrate the potential of personalised telemedicine, she ran a video about Lisa. A schizophrenic for 10 years, Lisa gained a PhD (econ). She needs 10 hours sleep nightly. Her condition was electronically monitored for the use of several medications and stress control. If she stops taking medications for two days the system alerts her mother. Two days later, her doctor is alerted. 'It keeps my recovery as a blip on the screen, not a fully fledged relapse,' said Lisa, who with this monitoring system can lead a far safer and more normal life. 'I need the support of my friends,' she said, poignantly, adding that she can now arrange to meet, and be sure to be there. Her illness has not changed, it is only controlled, but her life has been transformed.
The semantic web
Professor Michael Schroeder, Chief Science Officer at Transinsight and developer of the GoPubMed system for ontologybased literature mining gopubmed. org and the structural protein interaction database scoppi. org, spoke on the ambiguity and redundancy in text mining, ontologies, and reasoning, particularly for life sciences and beyond. We need to reduce web searching that produces thousands of results, he said, i.e. by using prior analysis software. Put simply, trying to find a black, yellow and red bird would bring too many returns – but by process of filtering, e.g. finding the category Finch, the search is simplified. 'There'slots of stuff out there that's brightly
coloured, but is it a vitamin pill or a headache tablet? We need to identify the problems we have,' he said.
Russell Beale (Birmingham University) said this is the adolescent stage in technology development – anything is possible, probably true, but it might take a lot of money and time, because technology should not be hard to use. 'Technology should be magic,' he said. 'We need to look for ambient intelligence, to solve the lack of a personal touch for healthcare. This needs effective design. Good design is invisible, bad is not. There is ridiculoussigning and design. Why does it exist? Customers must demandit, but are often 'rewarded' for not complaining. For users, the real questions are who, where, why, what, when? Design needs understanding and observation, it needs a prototype and this costs money and time. But, you must demand them.'
Visions of the future
German TV presenter Georg Holzach demonstrated the scenario of a family of four using one special EPR. All their images, insurance details, blood glucose, immunisations, looked simply and beautifully laid out and easy to use
– slide images could be enlarged or reduced to keep to one side, and a touch screen appointment could be made with a choice of times. Updated health monitoring could be transmitted to the family physician on same screen. Diagnostic results could be returned to the patient, with instructions on what to do. The envisaged linking with the entire healthcare network were futuristic indeed in terms of connectivity as it stands today.
He then demonstrated how the mouse and keyboard could be eliminated by using special gloves and controlling screen images by pointing or waving fingers. 'I have to hand it to all those all over the globe who have invented it,' the presenter concluded. I asked Gary Cohen what he predicts for the future: A strong presence in personalised medical care, he said, using different hardware companies for the devices, and then he predicted 1-2 years of development of what had been described at the event.
Brian Cohen added: '... the beauty of the Lorenzo framework is that it's built! And it reduces costs for patient care. We are trying to develop that software. It takes about a year to build something that's useful.' As for progressing to new systems and phasing out the old, no one can change overnight. Over a dinner created for iSOFT's guests by master chef Marco Pierre White (seen cooking on screens during the meal, of course),Brian Cohen remarked that the interactions were 'fantastic' and he hoped the beginning of very long friendships. Certainly it was a chance to
meet and observe the Cohen brothers. When I spoke with an American whose firm was recently acquired by iSOFT, I mentioned my impression of them. 'Yes,' he responded, 'we like them, too. Otherwise we would not have sold to them.' There it is, yet another vital ingredient for success in today's accelerating IT landscape.