How much IT does healthcare really need?
Management must take tough decisions and break up ossified structures
The question is increasingly significant. Information technology (IT) has thrust itself into all corners of life — some argue for better, some for worse, largely because efficient electronic networking cannot happen overnight. Thus gatherings to share experiences are valuable, as seen in the Berliner Klinik-IT Forum, a two-day event in January, supported by the Charité Berlin. The theme was: "IT as a process enabler — How much IT does healthcare need?"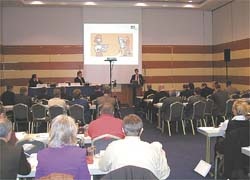 Subjects aired by some 100 participants included: sensible IT integration, network architecture facility control and IT requirements of hospitals and private practices; what a patient and a partner portal should look like; what is needed for inter-departmental communications; whether a hospital's entire workflow should be served by one HIS, or whether it would be better to have individual solutions, built on dedicated databases, to fit the needs of specific departments. And, finally, how those choices would affect the tasks and responsibilities of hospital IT staff.
EH reporter Denise Hennig asked Thorsten Matthies, of Hewlett Packard's Digital Hospital Business Development department, for his thoughts. 'Today hospital IT is still seen somewhat as an appendage,' he responded. 'But information and telecommunications technologies should be regarded as a strategic issue by hospital management. This requires a change of attitude.

However, change can only be brought about by a management that focuses on economics and is prepared to take tough decisions and break up ossified structures. The advantage is obvious: the new technologies will help to optimise primary and secondary processes and thus realise savings.'

Those new technologies are not free, he pointed out. Basic investments are required that differ from hospital to hospital, he added. 'However, if you look at the total costs of a hospital, those investments will have paid off within three to four years because they optimise processes and workflows.' Since these new technologies need to be operated and further optimised, future IT budgets need to be increased. In Germany, hospitals have taken just a few initial steps on the long road towards the digital hospital. Currently, mostly individual hospital areas – administration, radiology, laboratory - have IT solutions, i.e. they are interfaced, but still isolated solutions. 'We develop one-stop-shopping infrastructures and look at the hospital as a whole, because 'We want to get away from niche solutions,' Thorsten Matthies explained. 'We look at processes in a hospital and, based on this analysis, develop a seamless and integrated solution. We aim for a centralised IT infrastructure that connects and controls all departments and tasks on one platform, down to the paperless hospital. Implementing such a project takes several years and requires a solid design and close co-operation with everybody concerned - as our project planning and implementation at St. Olavs university hospital, in Trondheim, Norway, illustrates.'

When planning began in 2002 to renovate and update the 100-year-old St Olavs, the installation of state-of-the-art information and telecommunications technologies were included. Partnered by several hard- and software groups (e.g. Cisco) Hewlett Packard implemented an integrated infrastructure for speech, data and video communication, which also serves as a platform for all the hospital's clinical and administrative applications. More information on this and other hospitals with similar systems can be accessed on www.hp.com (Enterprise section). See also: www.stolav.no