Hospital develops its own app
An original computer application that enables access to electronic patient records (EPRs) instantly via doctors' smartphones has been designed by the IT team at the Holy Name Medical Centre in Teaneck, New Jersey, USA. The app also offers direct phone links to a patient's nurse and emergency contact person via iPhone, Android, Blackberry and other mobile devices. Report: Mark Nicholls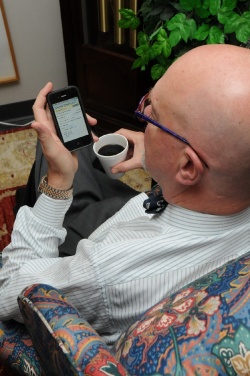 Dubbed MicroHIS, the technology is a component of Holy Name's internal computer system, WebHIS, and is available free to its medics, providing information for physicians to make patient care decisions without delay, while affording them the convenience of reviewing their patients' charts and speaking to a patient or key members of the care team.
As soon as lab and radiology reports, vital signs, and other aspects of the medical record are posted to the 361-bed Medical Centre's computer system, the doctor can access them by clicking onthe MicroHIS icon and logging on to the secure network. Then a list of his patients and essential medical data appears – with any abnormal test results flagged. By touching the patient's bedside phone number the doctor is instantly connected to the patient's room. He can also search for a patient by hospital unit, and when found, he simply adds the patient to his own list with a touch.
Mike Skvarenina, the hospital's Assistant V-P for IT, said that the Centre has been writing its own software for clinical applications for many years, chiefly because although manufacturers produce similar technology there are differences in personalisation and service. The real advantage in doing it themselves: 'We can react in a heartbeat to feedback from our staff and are in total control of our application and its functionality.' Ever open to further development of MicroHIS, he pointed out: 'There's a feedback button on the app through which staff can make suggestions to us.'
The flexibility of the MicroHIS means that IT staff can modify the system and the functionality of an application in as little as 10 minutes to an hour, he added, whereas it could take weeks, months or longer when working with a vendor. Recently MicroHIS was upgraded to receive out-patient reporting and doctors have asked IT staff to add operating theatre schedules. Although MicroHIS has met with great success, there are current plans to market it commercially.