Is your head in the clouds?
The equation is simple: Hospital IT data is growing exponentially, hospital funds are not. Facing enormous data volumes and less chance of increasing equipment or staff, IT managers inevitably suffer headaches. 'Cloud is really IT being delivered as a service over the Internet,' Mark Clark explained.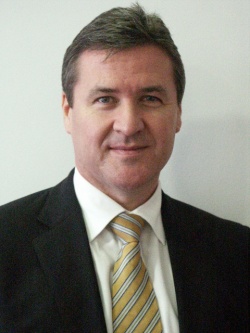 Does this mean your computer has no programmes and the user goes to a browser to ask for a specific programme?
Yes. In old language it would be your hosted service. Cloud is like the Grid computing principle, where Grid divides a number of large tasks into smaller tasks and then runs those on parallel systems. Cloud is a collection of resources managed dynamically that can be provisioned, or de-provisioned, and monitored and maintained any time. It is a virtual set of resources working together over the Internet.
So, I load up, say, my Word programme, write and then save a letter – where, physically, is my letter when I shut down?
Your data would actually reside in the cloud, wherever that cloud is. You can have private clouds, public clouds, and internal clouds, depending on what you want. An internal cloud would be in the hospital itself -- the IT department -- because there are so many different applications, some written in-house. For security reasons, a private -- or internal cloud -- would probably be better for a hospital setup, because no one who is in the cloud has any idea what the rules are for sharing patient data. At the moment, it is the hospital's responsibility to ensure that patient data is protected and that all of those processes comply with European as well as privacy laws. So, at the moment, private clouds probably would be the best solution for hospitals. But, to be able to share data between hospitals then there is a case for the deployment of a mixture of a public cloud and private cloud, so that data can be moved between them. So, they would first have to agree on which storage platform their data should be stored.
The electronic patient's record (EPR) could be located centrally. You might want to put it in a central hosted site and allow the other hospitals to access it across the Internet, and that means the EPR could be accessed nationally and resources shared. The advent of cloud computing has been made very popular by the maturity of technology like storage virtualisation, because this allows sharing across heterogeneous environments; the same goes for virtualisation at the server level.
A major challenge for cloud computing is security of patient records and the need to audit all the processes and systems – access rights, who saw what at what particular time – because of potential breaches in confidentiality laws. At the moment, there are no clearly defined laws for sharing patient data across those clouds, which is why private, internal clouds are probably best for hospitals. Although you can get better security it can be more flexible; you can potentially have a better quality service, retain the staff that knows all about the quirky applications that were developed within the hospital years ago, and meet challenging SLA's.
Are any hospitals using cloud computing?
Perhaps, but probably calling it something else, such as providing a services-led infrastructure -- whereby the infrastructure is provided as a service, (Infrastructure as a Service (IaaS) which is one of the cloud computing models. It's just terminology at this stage. The cloud computing model is still very young in its evolution. Presently, hospitals are trying to provide services to clinicians to ensure that IT is providing value with service-level agreements. That's one of the fundamentals of cloud computing: everything is offered as a service. Eventually they'll offer a charge back within a hospital, so that the individual departments will pay for their IT services. I don't know of many who are doing that yet. Some applications providers are providing hospitals with pay-per-use not only for some applications, for example Imaging (PACS), but also for being able to store on a per study basis, for small clinics where infrastructure can be better provided by Cloud services. . They can their images stored in a Cloud and pay a small charge per study when they want to retrieve their X-rays, scans, etc. The security aspects of this would naturally need to be scrutinised closely.
Hitachi Data Systems is a storage infrastructure company with a number of cloud-enabling technologies in its portfolio. We recognise there is no cookie-cutter approach to building a cloud; they are all different, but it's going to require a portfolio approach that allows data to be sent to customers who are building these private clouds and also the cloud service providers, to set up a set of services that meet customer needs for example the provision of multi-tenancy services within the same infrastructure,. In other words, for multiple patients departments or Hospitals, you can put them all on the same platform by ring fencing their private data, where it is secure. Security is therefore built in; the data cannot 'cross-pollinate' across different users. It's one of the first steps of having a secure environment, being able to secure the data and store it in a multi-tenancy environment. This is already a feature within Hitachi Data Systems infrastructure.
Security may not be too complicated in a private environment, but what about in a public one? Could health insurers or pharmaceutical companies dip into to this technology?
Health Insurers and Pharmaceutical companies would love to get their hands on the Patient data within a Hospital. Again, privacy laws dictate that the patient has to give permission for his or her data to be shared and without this permission, it will not be allowed. .. In Germany, for example, your health record stays with the hospital where you were born, and is not allowed to go anywhere else. When talking about a public cloud, unless the rules are changed in terms of the governance of the data and who owns it, and how it can be shared, this will be very difficult to adopt.
IBM and other firms are also involved in cloud computing. Are their approaches any different?
They have a variation on the same thing. Some are doing 'infrastructure as a service (IaaS)', some are doing 'storage as a service (SaaS)'. Hitachi Data Systems provides Storage Infrastructure and services and we help cloud computing companies leverage the technology that we have, to enable them to scale, provide the highest levels of availability in the Industry, enable flexibility, a better balance of resources, to satisfy service levels, and to be able to move data dynamically and automatically across storage tiers, for example.
Ease of migration is the number one challenge for users to address when they deploy new architectures in their data centres. Migration can be very costly; it can disrupt service levels if not managed correctly, and can be very complicated. Hitachi Data Systems provides best in class, intelligent, tiered storage through storage management software, our virtualisation, digital archiving, network-attached storage, and also data discovery software. We are really the industry's most integrated storage portfolio because we manufacture much of it ourselves, and we are driving innovative technologies to provide flexibility and better capability to share, rather than having a silo approach and proliferating islands of storage, which in a typical provider have been acquired over time. This allows clinicians to search and retrieve data on a patient much more effectively. From a cost perspective we can set policies for the data, automating the process of moving data in the most efficient manner across different systems – basically tiering the infrastructure to meet application SLA's. Storage virtualisation allows us to pool the data and share it across multiple storage vendor systems because once you can access the data across disparate systems you have the foundation to make better use of the data in terms of data mining and implementation of Electronic Patient Records.
Virtualisation allows cloud providers and IT departments to create efficiencies, reduce cost, better manage data make better use of scarce resources and support new business requirements. The environment can be truly mobile and support a multitude of hardware, software and operating systems, Windows, Linux, Unix variants, whatever you want. thief the current environment is not on an HDS platform, we can still enable better management of the data and virtualise the data and protect it very cost effectively for the user.
Could hospitals really save by using internal cloud computing?
Yes, and from the storage perspective we have a proven methodology called storage economics -based on a set of industry standards that delivers significant cost savings. . It can show customers the target areas that would create savings by deploying an open, vendor neutral infrastructure. We're now heavily promoting this methodology to many hospitals and it has been well received, particularly in the current economic climate.
Our technology is well suited to cloud deployments because we provide a secure infrastructure that is policy-driven, flexible and can be automated applying business rules that can be sufficiently elastic to cope with scale, performance and service levels. Users can't afford to have downtime, and we are the only storage provider to be able to provide 100% availability guarantees.
There are difficulties to overcome, as cloud computing is still fairly new and an emerging concept and, in healthcare, patient confidentiality and security are issues and in the short term these will need to be addressed before there is widespread adoption.. But, cloud is coming.