HMS - Health technology assessment and innovation in hospitals
a European perspective
Claudia Wild PhD (Phil.), Director of the Ludwig-Boltzmann-Institute for Health Technology Assessment in Vienna, Austria, studied communications & psychology at the University of Vienna and political sciences at the Ohio University in Athens, Ohio, USA.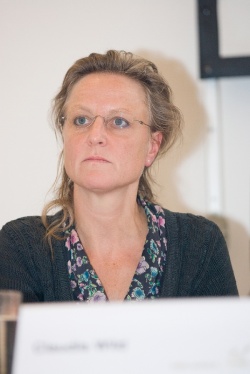 After gaining her doctorate in philosophy at the University of Vienna, she became a Research Associate on 'media impact on cognitions' at the Institute for Communications and Political Science, University of Nuremberg, Germany and was involved in other freelance media impact research projects.
Later, as Senior Researcher in the Institute of Technology Assessment, at the Austrian Academy of Sciences, Dr Wild was involved in the research field Health Technology Assessment in Austria. She has also served as the Director of the Ludwig Boltzmann Institute for HTA since April 2006. In 2009 she gained a lecturing qualification in social medicine (Medical University Graz) on 'Resource allocation in healthcare systems'.
Dr Wild has served, or is still serving as a member of various councils, committees and boards, that include the Supreme Health Council (advisory committee of the Health Minister), the Viennese Council of Bioethics, the Scientific Advisory Committee of the EBM-Working Group at the Austrian Federation of Social Insurances, the 'Public Health' working party at Transparency International – Austrian Chapter, the Scientific Advisory Committee of DAHTA@DIMDI, and the International Advisory Board of ZEFQ.
She is also a lecturer for post graduate courses in leading Austrian universities on health technology assessment, public health and hospital management, ethics in resource allocation in healthcare, pharmaceutical economics, and health management, and reviews on public health and policies for various publications. Memberships of various international institutions include the HTAi (Health Technology Assessment international), INAHTA (International Network of Health Technology Assessment, and EUPHA (European Public Health Association).
In terms of health technology assessment in hospitals, Dr Wild points out: 'Healthcare systems are confronted with a rising number of new technologies, often costly. Decisions around introduction and reimbursement must be made when the impact of these new technologies on health and on the healthcare system is uncertain. To support national or regional decision makers, health technology assessments (HTA) are produced by HTA institutions. In globalised markets, and especially within Europe, assessments by HTA institutions, decisions about providing access to, and additional data collection regarding a technology of interest can be done or take place in several countries, either at the same time or within a short time window. This means that a lot of HTA-knowledge or useful information to HTA is produced simultaneously, in different countries, with only slight differences in scope or timelines.
'A lot of duplication takes place, which can be reduced or avoided to allow a more efficient use of resources. Coordination and collaboration in this field are still poor. One WP in EUnetHTA Joint Action will be focused on the assessment of new (or innovative) technologies - as decision support for reimbursement - performed at the post-market approval stage.'