Hitachi's virtualised multi-purpose infrastructure solution
Healthcare organisations have suffered for decades due to highly fragmented data, and IT managed by individual departments has resulted in a plethora of incompatible systems.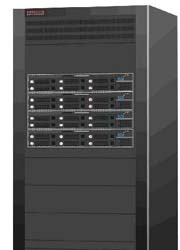 The Hitachi Content Archive Platform (HCAP) is an active archive solution through which all clinical and non-clinical information can be managed, shared and protected across a hospital organisation, the company reports. 'Interfacing via industry-standard communications protocols, it accepts data from multiple applications being held on separate systems, protects and preserves it, and makes it available at the point of care. The HCAP information structure is a straight answer to the IT revolution in healthcare today.'
Today's burgeoning patient numbers produce a huge amount of supporting data. It is predicted that more medical information will be generated in the next few years than ever – all of which must be stored securely and accurately. 'The Hitachi Content Archive Platform addresses all of these challenges,' the firm adds. 'With some clinical data required by law to be retained for 30 years, it is one of HCAP's important features to set up policies where data must be retained for a set period. If a user attempts to delete protected data at the application level, HCAP will stop it from being deleted at the physical storage level.'
The information infrastructure HCAP also promises to reduce the risk of errors arising from an in-built complexity that can have serious repercussions, such as medication errors, adverse drug reactions and patient safety incidents due to documentation errors in paper-based records. Losses of paperwork or film, as well as missed appointments are other organisational problems.
'Built to an open architecture, HCAP stores data so that it will be retrievable, despite technology refreshes, well into the future,' Hitachi points out.