HIMSS 2015
Education and Networking
Healthcare professionals looking at leveraging data to improve patient outcomes, as well as navigating tricky issues such as cybersecurity and patient engagement, will have plenty of information at their fingertips at HIMSS 2015, which takes place from April 12 to 16 in Chicago.

Report: Lisa Chamoff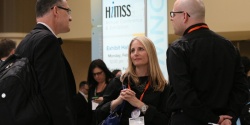 The conference will literally be at attendees' fingertips, via a mobile app for the event that includes maps, speaker bios, a personal calendar, and even a social networking aspect, with the ability to search for registered attendees and upload photos.
This year's conference will include more than 1,400 exhibitors, 250 hot topic sessions and 150 products and services on display. Here are five things that the organizers of the world's largest health IT event say should not be missed:
Security threats and disasters: New exhibitions include a Cybersecurity Command Center, where industry experts will share their experiences in detecting or overcoming potential threats, and a Disaster Preparedness Knowledge Center, which will cover how hospital IT departments can plan for natural disasters and disease epidemics, such as Ebola.
IT value: The HIMSS Health IT Value Suite will show how HIMSS award-winning facilities have proven the value of their IT systems.
Mobile and wearables: The HX360 Innovation Pavilion is an interactive exhibit featuring non-EHR technologies that aim to improve the delivery of care, while the Intelligent Health Pavilion will demonstrate technologies — such as RFID, RTLS, and wearables — that support improved patient outcomes, greater access to care, and reduced healthcare costs. There will also be a separate Mobile Health Knowledge Center, which will include educational sessions on patient-generated health data, and the privacy and security concerns that come with it.
Interoperability: The HIMSS Interoperability Showcase will provide examples of this healthcare IT holy grail, and help providers move forward to true interoperability. It will also be part of the Clinical & Business Intelligence Center, which will provide information on how processing, benchmarking, data mining, clinical and business intelligence can enable interoperability, patient safety, and quality outcomes.
Speakers: Along with a keynote address from former U.S. President George W. Bush, who will talk about his experience creating the Office of the National Coordinator for Health Information Technology (ONC), among other aspects of his presidency, speakers include Alex Gourlay, president of Walgreens pharmacy and executive vice president of Walgreens Boots Alliance; Bruce Broussard, president and chief executive officer of Humana; Karen DeSalvo, national coordinator for Health Information Technology, ONC, and acting assistant secretary for health in the US; and Jeremy Gutsche, founder of trendhunter.com and the author of "Exploiting Chaos: 150 Ways to Spark Innovation During Times of Change."