The smartLABgenie from HMM
German company introduces a novel way to store blood sugar results
Heidelberger-Medical-Marketing GmbH (HMM) presented the first CE-Certified and EU-Registered blood glucose meter for self-monitoring with Bluetooth technology, the smartLABgenie at Medica on Wednesday.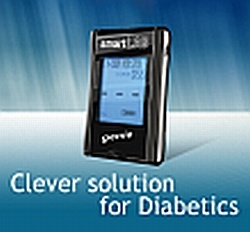 The monitor designed to help diabetic patients better control their illness is the result of a collaboration between diabetic specialists, hospitals and importantly, people suffering from diabetes. From the glycaemic measurements, available in 5 seconds, it is possible to judge directly the effects of activity, diet and medicine on the diabetes. The monitor is reliable, compact and light. The machine has sufficient memory to store the last 300 glucose measurements and 100 insulin injections. It can calculate average values over the past 7, 14, 30 and 90 days.
The display screen is well lit and clear and the easy-to-use scrolling menu makes the device user friendly. This ease of use also helps the patient to record the amount of insulin injected each time. The optional Blue tooth module allows compatibility between the smartLABgenie and all existing forms of telemedicine.
It is also possible to record the information on a mobile telephone or personal computer. It is this feature which is truly unique to the smartLABgenie.