FRED® easyport
is a Life-Saver
Cardiac infarction and cardiovascular failure are two of today's most frequent emergencies. SCHILLER's FRED® easyport® pocket is the only pocket defibrillator in the world.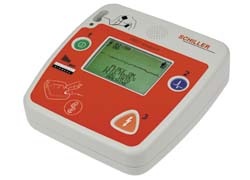 It is so small (133x126x50 mm) and light (490 gr incl. battery) that for many doctors it is already standard equipment in their emergency bag. It is also suitable to accompany risk patients and their relatives around the clock.

This life-saver is always available to give doctors, paramedics and rescue technicians peace of mind in emergency situations.

For example during the World Cup 2006, paramedics on duty at the football stadiums carried out their duties with FRED easyport clipped to a belt around their waist. In Switzerland an entire police department has been equipped with this device to help fight against sudden cardiac death.
Patients at risk can easily carry this small defibrillator with them, after they and their families have been instructed by their doctor. This dramatically reduces the response time to treat ventricular fibrillation and tachycardias, giving the patient a much better chance of survival.

For cardiologists this defibrillator can now also be supplied with a manual shock option, i.e. the doctor can switch off the AED mode and decide the energy level and exact moment of defibrillation.
More on the subject:
More on companies: