Sponsored • Computed Tomography
First installations of Dunlee liquid metal bearing CT replacement tubes in the US
Dunlee announces that it has successfully installed its first CT replacement tubes with liquid metal bearing (LMB): the new DA200P40+LMB tube with Dunlee CoolGlide technology.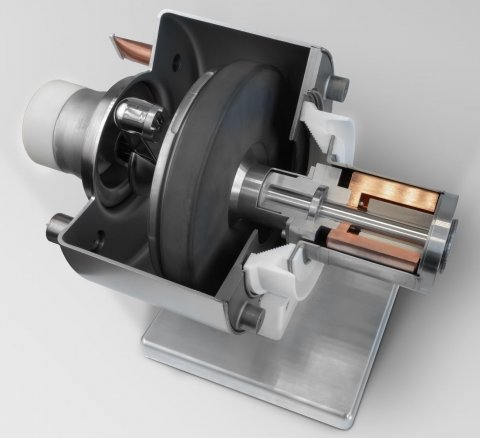 Prior to this first installations, the DA200P40+LMB tube with Dunlee CoolGlide technology was rigorously tested at both Dunlee's facility and on independent external gantries to confirm that it will perform reliably in both GE Revolution Evo and Optima CT660 CT scanners. "Having an alternative helps our customers – and the patients and hospitals they serve – in offering affordable healthcare, and allows them to choose their partner of trust. We are pleased to have this CT replacement tube with liquid metal bearing now available with verified compatibility," says Alexander Eitel, Head of ­Marketing & Business Development. Eitel adds that while initially, the DA200P40+LMB tube will only be offered for the GE Revolution Evo and Optima CT660 CT scanners, future plans include validation for additional GE scanners.
Manufactured in the USA
All DA200P40+LMB tubes are manufactured in Illinois, USA with imported parts. The Liquid Metal Bearing with CoolGlide is designed and manufactured in Germany, based on knowledge gained from over 30 years of LMB technology development and over 100,000 LMB units sold worldwide. It was developed by the research and development team that was the first in the world to bring LMB technology to the X-ray market in 1989.
Global distribution planned
Future plans include global distribution. Dunlee also plans to fina­lize registration for Canada and the Middle East region in the first half of 2021, followed by a product launch in China in 2022.
Choose your partner
With Dunlee's high-quality replacement tubes at a competitive price, you can manage costs and maintain scanner uptime. Partner with Dunlee for reliable tubes, friendly service and outstanding support.
About Dunlee
Dunlee has over 100 years' experience in developing, producing and integrating innovative components for imaging systems. Serving both the OEM and replacement markets, Dunlee offers a comprehensive portfolio of reliable X-ray tubes, high voltage generators, detectors and product packages for CT, as well as solutions for interventional radiology, MRI and nuclear medicine. It offers support during development and throughout the product lifecycle, contributing to its customers' efficient production and go-to-market strategies.
More on the subject:
More on companies: