First European surgical studio goes live
Action, lights, camera...
The operating `theatre´ exists no longer - at least in St Olavs Hospital (Trondheim University Hospital, Norway) where Europe's first operating studio officially opened this May. Now medical students no longer crane their necks to study surgical procedures. Thanks to this exciting new audio-visual concept they can see more, hear more and learn more.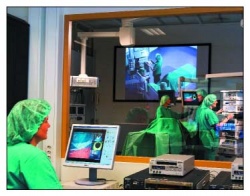 In two new, adjacent laparoscopy theatres, swivel cameras are mounted, each controlled by a touchpad at the surgical site. From these, audio-visual communications about the surgical procedures taking place are relayed to medical students in the auditorium above. And although the word auditorium is still used for the viewing area, the Trondheim students observe the procedures in a long room that has low windows set above the theatres. There they sit, at 20 tables laid with monitors, keyboards and headsets, eyes moving from the monitors before them, to study on three even larger flat screens facing them, the vividly relayed endoscopic events within the body of the patient below. Certainly the images obtained have truly remarkable clarity, and the system is set to improve students' understanding beyond anything they could have learned by hovering in the theatre itself, hoping for a better view of surgery?

Their lecturer, with own PC setup, teaches via VIBES, projector, and plasma monitors with sound, and the room contains another camera for audio-video discussions with the surgical team. RSM, DICOM, VIBES applications are also controlled in this room. Microphones in the 'studios' and auditorium are used for questions and answers, as are loudspeakers.

In the auditorium, the complexity of transmission from surgical teams to students and for the additional services, such as archiving, are underlined by the banks of computers stacked high in a small room to one side, and the many more tiered in two discrete cabinets.

Between the two theatres below is the 'studio' control room, which contains video (standard DV Cam and high-definition); DICOM units (burn CD, forward to server, editing pictures); a control screen for selection from operating theatre, and printers for both operating theatres.

For a greater range of video conferencing, which could be accessed by some 200 other healthcare institutes, three advanced video conference solutions aave also been installed in the system. These were set up from the operating theatre (Olympus and Siemens), using VIBES.

Surveillance is also included in the system, which includes patient surveillance via video over IP; video on a PC or on a handheld unit, and there are options for programmed recording and storage.
Thus surgeons, using their hand-held units, can check the level of preparedness in each area and make decisions to attend accordingly. For example, nurses can be seen scrubbing up, the patient seen arriving, the presence of key personnel checked, etc.

This set-up was no mean task to accomplish - and the results are superb for both operating and study purposes. 'It really is like a studio,' said the internationally renowned surgeon Ronald Marvek, who is Head of Department, at the National Centre for Advanced Laparoscopic Surgery, Trondheim University Hospital, who instigated the installation of the system at St Olavs, 'It's changed things for me totally. The students are not nearby, so we have more room in the operating theatre, and we can save on three doctors and nurses.'

Explaining the decisions to dramatically update the theatres, said cardio-vascular surgeon Hans O Myhre, Professor of Surgery at St Olavs: 'We needed to change our way of doing things. The organisation was traditional - full of rituals. We also had lots of equipment; it was messy; a poor work environment ergonomically.' There was also the desire to improve on education, surgical and technical research, for example navigation techniques, new stents and grafts.' He also added: 'We cannot see so well with our eyes, so imaging is increasingly important in this work. We now have the best possible imaging, which helps us as well as the PhD candidates.'

St Olavs Hospital and the Norwegian University of Science and Technology (NTNU) were responsible for the project. Working with the research foundation SINTEF they had already placed Trondheim on the international medical map, due to a series of medical technology projects that resulted in national centres of competence for 3-D ultrasound and keyhole treatments. From this, the idea emerged to establish a 'Future Operating Room', not just to improve surgical procedures, but also to become a laboratory for research, development and educational purposes.
About NOK 40 million funding for the new buildings and equipment needed was supplied by Helse Midt-Norge RHF, Helsebygg Midt-Norge, NTNU and St Olavs Hospital, from its research funds.

From theatre to studio
Sony provided the network for visible light images based on high definition video and the DICOM-standard as well as storage, display and medical print solutions in the two operating rooms. This opens up new ways of education and integration of high-resolution images, into digital patient records for more efficient workflow.

Olympus provided the endoscopic equipment, which is centrally managed, and can be controlled by a nurse in the non-sterile area, by a surgeon using a touch-panel or via voice control from the sterile area. All lights, room temperature, curtains, phone conferences, are controlled via this equipment. (Live standard and high-definition video in/out and recording, audio in/out; videoconference and VIBES communication; DICOM picture storage via touch panel).

Siemens provided the digital angiography lab in the theatres to aid in diagnoses and endovascular treatments. (Live standard and high-definition video in/out and recording; audio in/out; video conference and VIBES communication; DICOM picture storage via Siemens modality)
The first, and presently the only other of this kind of surgical 'studio' was set up in a New York hospital, said Vidar Liverod, Nordic Business Manager, Healthcare Professional Solutions Europe, Sony Europe. 'It's a unique combination of videonet and operating theatre, a multi-layer IT DICOM using high-definition for the first time in the operating theatre - and St Olavs is the first in Europe to install such a system. 50-60% of Sony's equipment used for the visual imaging at the laparoscopy operating suite is used in broadcast, because there is a similarity between the two operations in which Sony is active: broadcast and healthcare. This evolved from standalone to more use in a network environment - to get out of the operating theatre into a network environment.'

Using direct voice transmission the students question the surgeon about the procedure, and he replies as he works, instructing a theatre nurse to close in on the activity - or out for a broader view - using the touchpad to control the camera.

During my visit, we watched a two-and-a-half operation carried out by Dr Marvik on an accident victim, needing a colostomy performed by laparoscopy. In the operating room below we watched the patient's distended abdomen, spiked with laparoscopy tools and surrounded by the small surgical team.

On the screen in front of me the image was so sharp that I could even see fine wraiths of vapour created by the warmth of the endoscope moving against fatty tissue being dissected from the colon. 'What's that, I asked through the microphone. The answer came promptly from the surgeon holding the scalpel. Well! I wouldn't even have seen it, conventionally.