Everything for radiology
Agfa HealthCare launches next generation CR solution for mammography and all general radiology needs
First introduced at ECR 2010, Agfa HealthCare's DX-M is a CR solution able to handle both needle-based detector plates (NIP), as well as standard phosphor plates (PIP). The solution's ability to read NIP for Mammography requirements as well as NIP for general radiography means that the solution meets a market demand for high quality diagnostic images across needs, and offers potential dose reduction.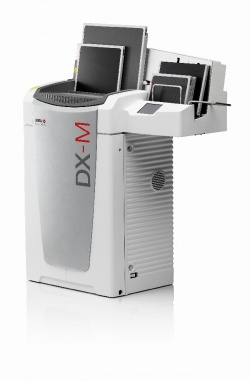 Its small footprint, fast preview and user friendly drop-and-go buffer allows it to deliver a high throughput, enhancing the department's overall workflow. The dedicated mammography needle-based detector is compatible with existing breast imaging modalities, providing cost efficiency.
Agfa HealthCare adds that this solution is its most complete CR system to date.
A bigger contrast media portfolio
The acquisition of Insight Agents GmbH, builds on and swells Agfa's diagnostic imaging portfolio towards future growth opportunities, the firm explains. Insight Agents GmbH develops, produces and distributes generic contrast agents.
Agfa HealthCare's new line of contrast media is on show at the company's stand at ECR this year, as is the:
IMPAX Data Center Viewer powered by XERO
This is a zero-download medical imaging viewer developed to provide access to imaging information for clinicians at any point of care, regardless of network constraints and/or the wide variance of platforms and administrative rules that can be so problematic for typical viewers, Agfa explains. 'By bridging the gap between the stringent controls of medical image formats, such as DICOM, and the flexible access formats of the internet, such as HTTP, IMPAX Data Center Viewer, powered by XERO, accesses and delivers all your images and reports but with none of the heavy infrastructure associated with legacy viewers. Only an Internet browser and a simple network connection are needed; zero client software installation is required
More on the subject:
More on companies: