Sponsored • GERICARE research programme
Evaluating the benefits of point-of-care ultrasound for geriatric medicine
Dr Nicolas Azulay is a general medicine doctor specialising in scheduled and emergency ultrasound examinations at the University Hospitals of Nice, where he works at the Pasteur II and Cimiez hospitals. As part of the clinical research programme GERICARE, he recently studied the impact of point-of-care ultrasound (POCUS) assessment of patients admitted to the short-stay geriatric unit at Cimiez, demonstrating its potential to positively influence clinical outcomes for older people in South-East France.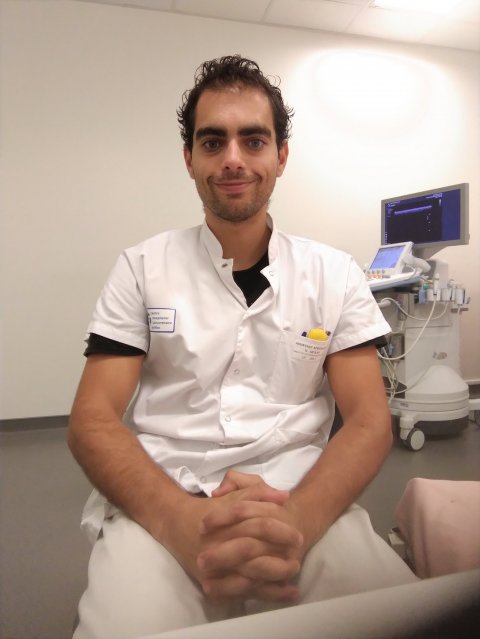 "I graduated in general medicine but, after six years in practice, I realised that I was more attracted to diagnostic exploration techniques, where I can investigate the anatomy and biophysical characteristics of a patient, rather than the wider management of patient care. Ultrasound imaging is ideal for this and, in recent years, I have gained expertise in using the technique for a wide range of clinical purposes, particularly in the assessment of elderly patients and in emergency medicine.
Using ultrasound in care of the elderly
Part of the GERICARE programme looked at the impact of using ultrasound to evaluate patients admitted to the 48-bed geriatric unit at the Cimiez hospital, a specialist centre for patients over 75 years of age. These patients were either referred to the unit by local GPs or arrived via emergency admission routes. Every patient coming into the unit was thoroughly assessed using a FUJIFILM Sonosite iViz ultrasound device, evaluating up to 15 different areas of the body. The findings were then passed to the admitting doctor, to help with the clinical decision-making process at the initial patient assessment.
The clinical value of POCUS in geriatric care
Over 500 elderly patients were assessed by POCUS over a six-month period, and the geriatricians looking after them were interviewed to evaluate the impact of having this additional ultrasound information at hand when making diagnoses and planning treatments. They reported numerous clinical benefits of using ultrasound as a standard part of the assessment procedure for the elderly population. In addition to pericardial effusions, it allowed the diagnosis of pulmonary symptoms or infection, pleural sealing, aortic aneurysms, urinary tract obstructions and gallstones, as well as the investigation of the vessels of the neck and lower limbs, and infectious pathologies of the digestive tract; the list is endless.
Eliminating patient transfers
The geriatricians particularly noticed the practical advantages of being able to perform POCUS examinations at Cimiez, rather than having to transfer patients to another hospital location. Previously, ultrasound was only available at one of the other university hospitals in Nice. Patients at Cimiez had to wait for an ambulance to take them across the city, and then wait again for the actual examination. Overall, a 10-minute procedure could take as long as four to eight hours. The beauty of having ultrasound at the bedside is that it is incredibly beneficial for older people who cannot move around so easily and may be anxious about travelling to another setting.
Choosing the right ultrasound device
It was important to use a device that was convenient and effective for doctors working in general and elderly medicine settings. In a busy environment, doctors carrying out frequent ultrasound examinations need something that is ultra-portable and lightweight, and so I chose the iViz; I could carry it around in my pocket, and all the necessary investigations could be performed with just two probes. It proved a fast, efficient solution, and was ideal to use in the midst of carrying out the whole range of other bedside clinical assessments.
Looking to the future
By investing in point-of-care devices and ultrasound training, we can enhance geriatric care and help elderly patients continue to live healthier, longer lives

Nicolas Azulay
The study findings demonstrated that the use of POCUS within this patient population significantly improved outcomes. It is no exaggeration to say that the information we obtained from ultrasound imaging improved outcomes and even saved lives. One example is a 76-year old, asymptomatic patient admitted with a 6 cm abdominal aortic aneurysm that was beginning to burst. Ultrasound helped us to make a precise diagnosis as soon as the patient arrived and quickly transfer him to theatre for surgery. Without this rapid diagnosis, he would not have survived but, thanks to the ultrasound examination, surgery was fast tracked and took place less than four hours after admission. Another example that comes to mind is that of a patient with a two-litre pericardial effusion and very few symptoms, who would certainly not have survived the night had we not identified this quickly.
The response from the doctors at Cimiez was overwhelmingly positive; most of them now want to undertake POCUS training so that they can replicate the assessments carried out during the study and continue to provide the service in the future. By investing in point-of-care devices and ultrasound training, we can enhance geriatric care and help elderly patients continue to live healthier, longer lives."
More on the subject:
More on companies: