Don't be complacent With few experts, we need to raise awareness about TB
With few experts, we need to raise awareness among physicians and undertake research to upgrade our knowledge of this disease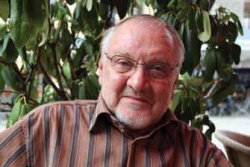 Although the incidence of tuberculosis (TB) in Germany is low, considering a slight rise of childhood TB since 2009, and facing the still high, partly increasing TB incidence in Eastern Europe, the rise of multi-resistant TB worldwide, and migration augmented by globalisation, TB expertise remains very important for all countries. Seeking an insight into the TB situation in Germany, Bettina Döbereiner interviewed paediatrician Klaus Magdorf MD, among the few TB specialists in that country. He is positive that we need to again raise awareness about TB and, equally important, undertake more research to advance our knowledge of this disease. Nonetheless, when asked whether we could face an epidemic of childhood TB, the expert was reassuring: 'No, not yet. With about 160 cases of childhood TB in Germany in 2010, the disease is definitely under control and also the number of TB in adults is low – around 4,000 in 2010 – although childhood TB cases increased from 1.2 per 100,000 in 2008 to 1.3 in 2009, a rise seemingly continuing in 2010. I assume that every statistician would negate the impact of this increase, but we notice it – without panicking,' Dr Magdorf pointed out. 'Nevertheless,' he added, 'we face the problem that, from my experience, only a few clinicians know about TB; the majority of paediatricians is no longer aware of this "forgotten" disease. This is also an educational problem. So, to educate our future paediatricians about TB, we engage in scientific collaborations with South African universities.'
Are there multi-resistant childhood TB strains in Germany?
'Cases of multi- or extremely resistant TB are still rare in Germany. More than 86 percent (including adult patients) of the Mycobacterium tuberculosis strains are fully sensitive to first line antituberculosis drugs, about 11 percent are resistant to at least a single drug and only about two percent are multi- or extensively resistant (MDR, XDR).'
Are there fatalities among TB infected children here?
'It's extremely seldom – about one child per year – which is nearly always linked with a delayed diagnosis of the disease.'
How could our TB diagnostic quality and accuracy be improved?
'First, we must raise awareness of TB infection and we must include TB in the differential diagnosis of unclear pulmonary and extrapulmonary diseases. Secondly, we should implement subsequent contact tracing to identify and screen all close contacts of each infectious patient, to prevent possible transmission to children. Finally, we must upgrade our knowledge about the disease and improve pre-screening of risk groups, for example immigrants from high-incidence countries.' 'The impact of immigration is the subject of an on-going study here in Berlin. We still have no reliable epidemiological data of the relevance of migration for the incidence of TB in this country. The study, launched in 2009, is being conducted by the Charité, University Medicine, the Robert Koch Institute and the Centre for Patients with Tuberculosis and People at Risk. I would say that TB is by no means only "imported"; our preliminary data indicate that the effect is even smaller than expected.'
Do we have adequate drugs and regimens in Germany to prevent and treat TB in children?
'Yes. Presently we do, but studies on pharmacokinetics and side-effects of anti-tuberculosis drugs in children are scarce,' said Dr Magdorf, adding: 'Therefore, two years ago we started studies in South Africa to increase our knowledge.'