Diabetic foot
Why is surgery so often Russia's first line of `treatment´?
The 2nd international symposium `Diabetic foot: surgery, therapy, rehabilitation´ took place on the beginning of October in St. Petersburg.

Olga Ostrovskaya reports from Russia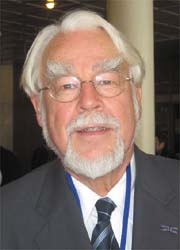 Diabetic foot is a really great problem, emphasised Professor Karl Bakker (NL), founder of International Working Group on the Diabetic Foot, speaking at the opening of the 2nd international symposium on this critical subject, organised by the European Association for the Study of Diabetes (EASD). Every sixth diabetic is at risk for this problem – and, worldwide, a new leg amputation is performed every 30 second. Yet we know that about 80% of ulcers could be prevented.

Some years ago a special International Consensus was taken and this document was translated into 26 languages. The main task of healthcare systems is to prevent this complication and save not only legs lives (the lifespan after a 'high' amputation is 1-5 years).
There are about two million Russian diabetics, and about three million don't know they have this disease. The exact data about amputation is absent in our country. The lack of data, lack of skilled podiatricians, lack of funds and equipment (for angiography, etc.) are the main problem in Russian endocrinology. Hence, leg amputation is the main 'treatment' for diabetic foot. 'High' amputations represent about 40% of the total, because most of the patients arrive at emergency wards with large suppurative inflammation.

However, we are not idle; we try to act and to help our patients, said Dr Vadim Bregovskij, lead researcher in the Endocrinology Department at Almazov Heart, Blood and Endocrinology Centre. Most big Russian cities have centres to treat diabetic foot treating; St. Petersburg is a leader in this. Diabetic foot wards were established there 12 years ago.
However, Russia's healthcare still has many problems, and it was great to listen to colleagues and exchange interesting treatment experiences. For example, Dr S Morbach spoke about the German approach to structures of diabetic foot care; Dr L Tudhope discussed care in South Africa, and Dr C Attinger (USA) reflected on past, present and future surgical aspects.