Cost efficiency and improved patient care with mobile ultrasound
SonoSite Inc., the world leader in hand-carried ultrasound is presenting its new innovations at this year's MEDICA in Düsseldorf from 14th to 17th November.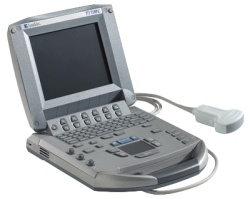 The new systems boast numerous technical improvements and deliver breakthrough image quality. The mobile devices are able to perform a variety of exam types and deliver high quality diagnosis even under difficult conditions. SonoSite is producing this light weight (under 4 kg), portable ultrasound systems for a full range of clinical applications, e.g. for use in anaesthesia and emergency medicine, for the examination of internal organs, internal bleeding and high risk pregnancies, as well as the placement of catheters. Thanks to a large capacity for image and data transfer, the mobile ultrasound systems provide many possibilities for lower cost, multi-media hospital communication. Due to improved ease of use and the specially developed Education KeyTM training program, SonoSite is improving hospital efficiency: work routines are becoming simpler. Therefore, it's not just patients that are benefiting but hospitals are also experiencing benefits due to decreases in costs.
Visit SonoSite at MEDICA at Booth 31, Hall 9.
More on the subject:
More on companies: