Compamed 2014: High tech solutions for medical technology
Statement by Joachim Schäfer, Managing Director of Messe Düsseldorf
Medical technology still is among the fastest growing industries worldwide. However, the growth of the demand volume even in emerging markets is less based on volume expansion but more driven by targeted investments in modern systems and procedures.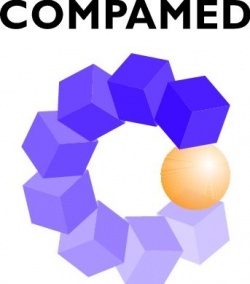 It seems that especially innovation-driven medical technology companies have an advantage here. Those who do not neglect their own research and product development and can clearly portray the added value of new equipment generations and procedures have the best chances in the market.
Thus, a significant role also is assigned to suppliers as important partners for product development, manufacturing, and services of the medical technology industry. Suppliers impressively demonstrate their performance capabilities every year with their leading market and communication platform: COMPAMED - High Tech Solutions for Medical Technology. No matter whether it involves new materials and appropriate processes for their treatment and processing, miniaturization of components, development of modern medical equipment, sterile packaging, or complete contract manufacturing, it is very often the know-how of the COMPAMED exhibitors that forms the starting point for great advances in medical technology.
COMPAMED itself also has made great progress. More than 700 exhibitors and a reserved area of more than 12,800 square meters mark a new top value in the success story of the event launched in 1992, the COMPAMED 2014 (12 to 14 November).
In conjunction with the world's largest medical exhibition, the MEDICA 2014 (4,500 exhibitors / 12 to 15 November) taking place at the same time as COMPAMED, the entire value-added chain for medical technology is explored - from individual components to procedures for quality control to the finished product and related services for the complete product life-cycle (e.g., finance, re-manufacturing, spare parts handling). This coordinated tradeshow and thematic combination is unique in the world and attracts more and more visitors.
Of the 132,000 visitors who attended MEDICA and COMPAMED in 2013, already 17,000 visitors are especially interested in the special profile of the supplier tradeshow COMPAMED. While MEDICA is visited primarily by medical users, mainly engineers, developers and buyers of the medical technology industry (exhibitors at MEDICA) form the core of the visitor pool of COMPAMED.
Based on the innovations presented at the tradeshow, current trends are found especially in the area of micro system technology solutions for mobile diagnostics, monitoring and therapy systems. Some exhibitors specializing in compact measurement technologies worn close to the body, so-called "Wearables" and "smart textiles" focus on how the required technology can be best integrated into clothing. Thereby, there are numerous challenges to tackle: In this connection, wearable textiles must furthermore be stretchable without losing contact and should also be sufficiently robust for care.
In the meantime, the technical requirements for this are fulfilled by tiny sensors, flexible and stretchable substrates made of silicon, polyurethane, polyimide, or textiles that can accommodate electronic assemblies over a wide area, as well as miniature connection technologies, energy efficient communication electronics and high-performance energy storage that can be wirelessly charged, among other things.
New materials are a classic theme at COMPAMED. High-performance ceramics are innovative application examples with regard to current trends. Ceramics is an indispensable material is the field of implant medicine - whether knee joint components or ball head inserts and cups. Good tissue tolerance, low abrasion, high resistance, and a low risk of allergy are primarily notable advantages. Even as an alternative to transparent materials based on glass or polymer, ceramics is a noteworthy material, as the exhibitors at COMPAMED will impressively underline. There are companies that can offer ceramics with an extremely high transparency at equal strength such as sapphire glass. Sapphire glass also has a high refractive index as well as a competitive price-performance ratio, all of which mean this innovation has a good market perspective, for example, with regard to the production of fine lenses for endoscopic procedures.
An exciting combination of material and process engineering is represented by 3D printing, an innovation that now also is being applied in the field of medical technology. Drilling templates customized to individual patients and used for knee or hip surgeries, for example, are already a currently relevant field of application. However, the last COMPAMED has already addressed this topic with the European project "ArtiVasc 3D" concerning the development and production of soft tissue implants using 3D printing methods. These could serve as medical tissue replacement or as test systems for pharmaceuticals and cosmetics. Although 3D printing still sounds like science fiction right now, the process also applies to artificial support structures for blood vessels and veins. To find the right material, which is editable in 3D printing, and which can be used even at an acceptable cost, currently represents a major challenge. It will be interesting to see to what extent research institutions and providers of the solution will have converged at the time of COMPAMED 2014.
The tradeshow offerings of COMPAMED (Halls 8a and 8b) include the following focal areas: Components (including electronics, parts, hoses/tubes, filters, pumps, valves), materials, micro- and nano-technology, production (including assembly, automation and manufacturing technology, process technology, packaging) as well as testing and test systems.
Two forums with matching contexts inform on relevant medical supply trends. The COMPAMED HIGH-TECH FORUM (Hall 8a) of the IVAM Association for Micro-Technology here focuses microsystems technology, nanotechnologies, as well as production technology and process control.
At the COMPAMED SUPPLIERS FORUM of the specialist magazine DeviceMed (Hall 8b), current developments along the entire process chain are examined by experts from companies and organizations. Mechanical and electronic components are also subjects of lectures, as are innovations and all types of contract manufacturing.
The events COMPAMED and MEDICA can be visited again this year at no extra charge with only one tradeshow ticket.