COMPAMED 2013
Suppliers give exciting glimpses into the world of future medical technology.
Medical technologies have maintained a leading position in European patent registrations for 15 years.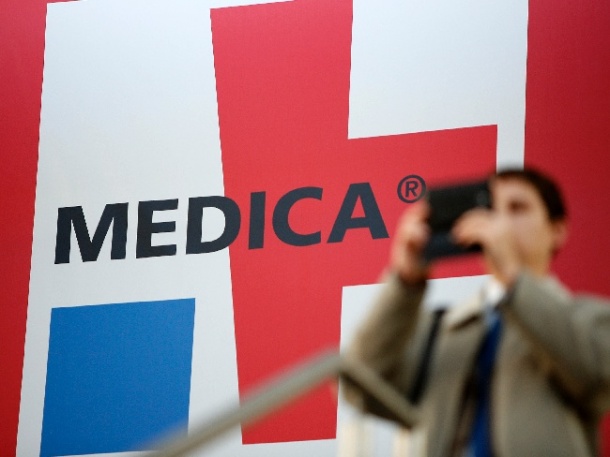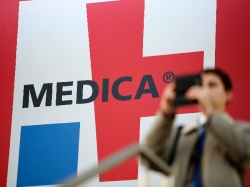 In 2012, 10,412 applications were made to the European Patent Office (EPO). Of these, 42 per cent were from USA and 38 per cent were from Europe. This is according to the current annual report by the EPO. Medical technology remains a dynamic and highly innovative branch. In terms of patents and of its share of the world market, Germany is in second place after the USA. In saying this, Germany as a location for innovation and research places an especially important role for the "MedTech" companies. In addition, for decades, Düsseldorf has been the most important stage worldwide for new developments in the field of medical technology. This is because the unique combination comprising MEDICA and COMPAMED, both leading professional trade fairs, allows the entire process chain and the full range of medical products, devices and instruments to be represented.
Being held at same time as the world's largest medical trade fair, MEDICA 2013 (20 to 23 November) with more than 4,500 exhibitors, the COMPAMED, the leading international market and information platform for suppliers in the field of medical technology production, has shown a slight increase in bookings to almost 700 exhibitors this year (20 to 22 November 2013). "Increasing awareness of medical issues, a population that is continuously growing in age, and a rise in diseases of affluence ensure that medical technology in general will rank as one of the fastest-growing sectors in the years to come despite the cost pressure put on the majority of national healthcare systems," stated Joachim Schäfer, managing director of Messe Düsseldorf GmbH, explaining vital economic parameters to suppliers as well as "MedTech" providers.
World innovation: remote controlled implant against incontinence
Important topics at the COMPAMED remain on the one hand implants, but electronic components for medical technology on the other. Both areas have been consolidated in the best way possible by the electronic specialists AEMtec and Contec (both members of the exceet Group SE) in cooperation with the Swiss company MyoPowers Medical Technologies SA, and further partners that have worked together to develop an implant as a treatment possibility for incontinence. With the expertise of the exceet group of companies in developing and manufacturing miniaturised electronic components, modules and systems in the field of modern therapy for urology issues, MyoPowers has been able to manufacture a modular artificial urinary sphincter to treat incontinence that can considerably improve the quality of life of those afflicted. A special feature of the implant known as the Artificial Urinary Sphincter (AUS) is enabling the doctor to perform postoperative adjustment of the applied level of constriction using a special remote control. The patient receives a simple remote to control the implant. The component, which can be used in the same manner for both males and females, is seen as giving its world début in the field of technological medical implants for urology. "Such development projects prove that our technological expertise in the field of medical technology, particularly with regard to implants, is ideally tailored to the market. Once again, AEMtech and Contec emphasise their extraordinary and excellent branch expertise," said Ulrich Reutner, chief executive officer (CEO) of the exceet Group SE.
Too much bureaucracy thwarts intelligent implants
Intelligent implants - meanwhile an established part of COMPAMED - considered the most technically sophisticated and highest risk medical products that place special requirements upon the areas of research, development, licensing and reimbursement. In development, there are currently collaborative projects in Germany whose scope includes retina implants with optimised optical resolution and durability, an integrated implant to monitor the status of tumours, or a hip prosthesis with sensors to monitor loosening status. However, in a new study, the Association for Electrical, Electronic & Information Technologies (VDE) warns of deterioration of the general conditions for innovation in the field of intelligent implants in Germany. "The desire to perform research is being suffocated by insufficient funding policies and too much bureaucracy," lamented Dr Kurt Hornschild, author of the study. While the tedious process chain that leads to the finished product can take ten years or more, the funding provided by the Federal Ministry for Education and Research (BMBF) generally runs out after only three years. Particularly for clinical testing, especially small and medium-sized enterprises lack funds while constituting a central impulse for new technologies on the one hand, but do not raise enough money at the same time for the "marathon" on the other. The study results in showing that Germany is still, all in all, a good location for the development of high-tech implants. However, a particularly high level of administrative and bureaucratic obstacles regarding licensing and reimbursement make entering the market difficult. It is for this reason that there is fear of a drop in innovation dynamics in medical technology with risk classification at the highest level. "With that, Germany could lose its locational advantage of having a widely diversified spectrum of technologically oriented small and medium-sized enterprises," said Dr Cord Schlötelburg expressing his concern as managing director of the German Society for Biomedical Technology (DGBMT) in the Association for Electrical, Electronic and Information Technology (VDE).
New synthetic particles stop blood supply to tumours
Innovative materials have always been an important topic at the COMPAMED. What can be achieved with innovative materials has been proven just recently by Dr Ulrike Stampfl, radiologist at the Heidelberg University Hospital. A starting point for a new type of cancer therapy procedure are tiny artificial particles combined with a low level of embedded metal. With so-called embolisation, these particles are introduced into the blood vessels of a tumour using a catheter. They seal the blood vessels leading to the inner portion of the tumour and block its oxygen and nutrient supply – the tumour becomes responsive to subsequent medicative therapy. Positioning the catheter and releasing the particles are carried out under X-ray control. For a long time, contrast agents had to be used along with the particles due to the fact that they were not visible against the background environment of the fluoroscopy. Thanks to the embedded metal, X-rays are not able to penetrate these new particles, making them easy to see in addition to generating signals in the magnetic resonance tomography (MRT). "Our tests have shown that the new particles are indeed very easy to see using various imaging techniques. Therefore, they increase the level of control during the intervention itself and for the post-control examinations using MRT and computer tomography. We can directly examine how the particles disperse within the vessels," explained Dr Stampfl, a senior physician that had been awarded the Werner-Porstmann Prize by the German Radiological Society (DRG).
Package small batches quickly flexibly and safely
The packaging industry also remains a "never-ending hot topic" at the COMPAMED. The packaging and production process in the medical goods and healthcare industry are dominated by a single trend in particular: individualisation with regard to package contents and labelling. In this way, medical and healthcare products are increasingly tailored to local markets and patient needs. Consequent to this development, the production batches are getting smaller and smaller. By means of this, there are many more production line changes to accommodate different batches. Therefore, packaging solutions with reliable processes are in demand that are especially flexible. Against this backdrop, Multivac has developed several compact models such as the T 260 Traysealer, the C 400 TC special chamber machine and the R 145 thermoform packaging machine. All of these will be presented in Düsseldorf. "A high level of process reliability for packaging plays a crucial role in achieving high quality when manufacturing healthcare and life-science products. Our packaging and labelling solutions that we have designed for the industry support processes to provide reliable 'line clearance' when changing over production lines to accommodate for batch changes in addition to providing product counterfeit protection and traceability of processes. In the same way, our devices ensure simple and reliable user guidance," explained Verena Weiss, product manager for MCP (medial, cosmetics and pharmaceutical products) at Multivac. With regard to the thermoform packaging machine, the machine concept has been optimised in terms of providing reliable line clearance. Process and technical rooms are separated from each other to a great extent. All assembly units, including hoses, cables and valves, have been repositioned away from the internal part of the machine to the backside of it. In this way, the risk is reduced that products get stuck in the internal part of the machine during the packaging process, thus causing the machine to stop.
New diagnostic systems for detecting the colonization of germs on the skin
Thanks to its variety, time and again, the COMPAMED is also good for new applications using the generally known means available. This said, the CiS research institute for microsensor technology and photovoltaics is presenting innovative applications for UV light. Under the title, "Advanced UV for Life", eight research facilities and 14 industrial companies have formed a cooperation to take advantage of high-energy radiation. The project is being promoted within the scope of the high-tech strategy and has the aim of developing new UV LED light sources that can also be applied in the field of medicine and medical technology. There are uses in the fields of dermatology, phototherapy, blood analysis and microbial detection. The CiS also shares the responsibility for developing integrated optical and impedimetric sensors as well as constructing microsystems based on UV LED components and silicium detectors for UV radiation. In particular, for a precise diagnosis, new diagnostic systems are required to detect germ colonisation on the skin that are capable of defining the germ class and germ count quickly and reliably. Therefore, innovative miniaturised UV technology coupled with biomedical sensors is necessary. Thus, sensor solutions are needed that use different optical spectroscopic methods such as UV remission, fluorescence or impedance spectroscopy as multi-sensor system.
IVAM Forum LASER, microprecision and printed intelligence
CiS is a member in the IVAM, the specialist association of microtechnology that is also organising a large joint stand at the COMPAMED this year again with around 40 exhibitors from nine nations. In addition, the COMPAMED HIGH-TECH FORUM is taking place again in 2013 that is organised by the Messe Düsseldorf in cooperation with the IVAM. This time, the multiple specialist lectures will focus on "Laser and Photonic Applications", "Microprecision, Manufacturing and Processing" as well as "Printed Intelligence". Furthermore, there will be a Singapore session giving an outlook of the Asian medical technology market. Moreover, there are sessions being planned in cooperation with Microfluidic ChipShop and the Fraunhofer Institute for Reliability and Microintegration (IZM). In other words: The exhibitors and presentations make the COMPAMED 2013 in halls 8a and 8b a definite "must" once again for those who are interested in the innovations and trends regarding product development in the medical technology industry.
Information on COMPAMED 2013, the exhibitors, innovations and the programme of specialist forums is available online at:
http://www.compamed.de