Centralised control for OT devices
Core is a modular system that interacts with individual operating theatre (OT) devices to bring them under the ontrol of one centralised monitor.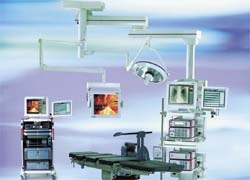 The widely used CAN Open BUS protocol provides a standardised platform for continuous integration of further components. 'Vendor-specific communications interfaces used in the past are losing importance. Networking of devices, and a unique visualisation and operating concept, allow centralised control of the entire system from one central operator panel,' explained Richard Wolf GmhH, the system's manufacturer. 'Core brings with it a further significant increase in efficiency in the form of voice control that is not dependent on the speaker. This allows the direct operation of devices such as cameras, light and operating table from within the sterile field of the OT and provides the basis for immediate intra-operative preparation of the OT report. Consistent use of this module ensures the immediate postoperative availability of the electronic operating report, including pictures of findings, and allows increased efficiency in the documentation from a forensic perspective.'
PACS - Within the system, Medimage unites all forms of image, film and reporting from radiology, cardiology and surgery. 'The possible intra-operative visualisation of pre-operative image data (X-ray, CT), on suitable monitors in the operating field of the physician, plays just as great a role in cost reduction as in increased operating safety,' the firm points out.
The core system also provides peripheral devices, which include ceiling supply units, nurse stations, mobile system trolleys for integration with operating tables, and the firm provides full planning services with core specialists, and organises the installations of the tailor-made solutions.