Catheter-based valve surgery
Transcatheter valve implants (TAVI) have encouraged a new group of patients. Previously inoperable, they may now receive adequate treatment. Some centres report a success rate close to the conventional open surgical procedure. Naturally, the long-term outcome is still unclear. Holger Zorn reports.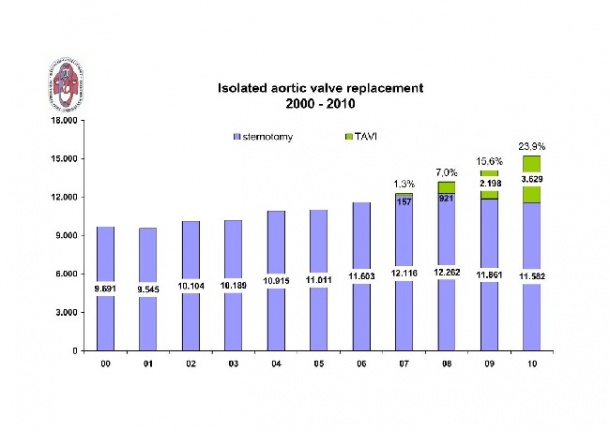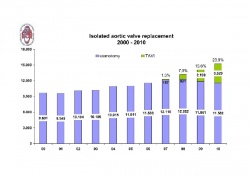 A significant increase in the number of heart valve operations was reported at the 40th Annual Meeting of the German Society for Thoracic and Cardiovascular (DGTHG) in February this year. 25,127 isolated cardiac valve operations were carried out in 2010, compared with 23,556 in 2009 – an increase of 6.7%. However, a closer look presents a different picture. Aortic valve surgery has been performed less frequently over the last three years. The reason is a huge increase in catheter-based interventions, as reported in EH 6/2010.
11,582 of all aortic valve procedures were conventional operations to replace the valve, which functions as a semi-lunar valve between the left ventricle and the aorta, either with an alloplastic or biological implant. There were also over 3,600 catheter-based aortic valve implantations, where a pre-fold heart valve prosthesis is introduced via femoral arteries and aorta, or apex into the defective aortic valve, pushed them aside, unfolded and fixed (pic. 2). 'The clear advantage is that it is less stressful for the patient than surgery. However, we recommend this method so far only for patients over 75 years old, who also have severe concomitant diseases,' said Professor Friedrich Wilhelm Mohr, president of the DGTHG, 'because mortality for conventional aortic valve surgery depends on the age and health status between 1-3%. In catheter-based implants, also used for younger, healthier patients, mortality rates up to 7% are observed.'
At the meeting, scientific discussion confirmed his view. Several presentations dealing with TAVI showed a wide range of special applications. Moritz Seiffert MD, from Hamburg University Heart Centre, reported a series of 10 patients with a mean age of 80.1±6.7 years and a logistic EuroScore of 36.3±24.5% who presented with significant xenograft degeneration 13.3±6.2 years after aortic (n=8), mitral (n=1), and combined aortic and mitral (n=1) valve replacement. Edwards Sapien prostheses were implanted valve-in-valve in aortic (n=9) and mitral (n=2) positions through a transapical access. The valve function, described in NYHA stages, was improved from 3.1±0.3 before intervention to 2.1±0.3 at 30-day follow-up. Six out of these 10 patients were doing well with adequate valve-in-valve function in a follow-up range of 30-707 days. Dr Seiffert confirms this technology is 'a promising treatment option in high-risk surgical patients', but adds: 'Adequate patient selection is crucial to the success of this procedure. With satisfactory short-term follow-up, long-term clinical and haemodynamic data have to be awaited to thoroughly evaluate this approach.'
Semih Buz MD, from the German Heart Centre Berlin, showed data of 280 patients aged 79±8 years and a mean logistic EuroScore of 39±19%, treated since April 2008 with the Edwards Sapien valve via transapical access. 17 patients were in cardiogenic shock, 55 had previous cardiac surgery. Combined planned additional procedures were performed in 42 patients including simultaneous coronary stenting in 30 cases. The procedure was technically successful in 99.6%; the 30-day survival was 95.4% for the whole group. But that's not yet the whole truth, Buz drew attention to learning curve: 'The log EuroScore was 38±20% for the first 100 cases, 42±19% for the second 100 cases, and 35±18% for the last 80 cases. The 30-day mortality for both the first and second 100 cases was 6.0%. It dropped to 1.3% for the last 80 patients.' Considering the high risk profile of the patients, this result is comparable with conventional aortic valve replacement.
Markus Krane MD, from the German Heart Centre Munich, focused on the quality of life of those patients, measured by using the standardised Short Form 36 Health Survey questionnaire (SF-36) at baseline and one-year follow-up. 'We performed a prospective analysis of 68 patients who underwent TAVI with either the Medtronic CoreValve or Edwards Sapien device', he explained: 'There were significant improvements for physical functioning (baseline: 35.3±2.8 vs. one-year follow-up: 45.0; p≤0.001), bodily pain (59.5±3.7 vs. 66.7±3.2; p≤0.05), general health (46.6±1.8 vs. 54.6±2.8, p≤0.01) and vitality (35.0±2.6 vs. 47.6±2.3; p≤0.001). No significant improvement could be detected for social-functioning (75.6±3.3 vs. 76.1±3.3; p=0.85) and role-emotional (67.4±5.9 vs. 66.4±5.8; p=0.75).'
At the same institution, Sabine Bleiziffer MD compared the survival of 382 patients referred for TAVI, of whom 12 died on the waiting list, 229 underwent transarterial or transapical TAVI, 64 conventional aortic valve replacement (AVR), and 77 conservative treatment: 'Medically treated patients had worse one-year survival outcomes than TAVI or AVR treated patients', she demonstrated (pic. 3). 'The benefit of TAVI and AVR over medical treatment emerged only at 6-month follow-up,' she concluded. 'There was no significant survival difference between TAVI and SAVR patients.'
Looking at Dr Bleisiffer's data again reveals another fact: Only 62% of the patients referred for TAVI could receive this procedure. One reason is seen in the high co-morbidity of these patients. To broaden the physicians' arsenal, a further step was taken by Medtronic. The firm received the CE Mark for the CoreValve System to be delivered via a novel approach that would allow access through the subclavian artery located beneath the collar bone. Consequently, thousands more aortic stenosis patients in Europe may be eligible to receive catheter-based aortic valve implantation. 'Today, a significant subset of patients is underserved because of limitations of the femoral access. If the femoral arteries are too small, stenosed, or show severe tortuosity, the femoral sheath cannot be advanced. In addition, previous peripheral artery bypass grafting or stent implantation precludes transfemoral valve implantation. The subclavian approach will give us expanded access to care for these patients. It allows us to perform the retrograde transarterial procedure analogous to the established transfemoral approach, with the same equipment and technique. Furthermore, it might be advantageous, in terms of exact valve placement, due to a shorter distance from the arterial access to the valve. Still, this hypothesis has to be proved with growing experience,' Dr Bleisiffer pointed out.
With this background, Prof. Mohr, one of the pioneers in minimally invasive cardiac surgery, predicts 30,000 aortic valve procedures in Germany in 2013, although the ideal product is not yet developed. 'These valves must crimped, which damages the endothelium and the material.' There will also be changes to the form, when the new valve is pressed into the native. 'Seventy percent of the catheter valves have 1-3 paravalvular leaks,' the professor said. In conventional procedures, such a leak -- a small opening between the aorta and the left ventricle around the outside of the valve -- occurs in just one percent.
A next-generation technology is also on the horizon: The St. Jude Medical transcatheter valve is designed to resolve the limitations seen with the first generation products, making transcatheter valve deployment and retrieval easier for clinicians. Additional details pertaining to the clinical trial have not been publicly disclosed at this time.