Biometric authentication
Biometry, or the technical recognition of physical characteristics, is playing an increasingly important role in clinics and hospitals.

By Thomas Bengs, Product Manager for Vein, Fujitsu Europe Limited Group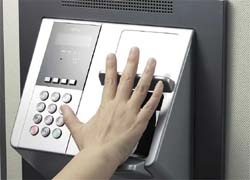 Its primary applications involve entry restriction for wards and laboratories, as well as verification of identity to clear access to patient data. The purpose of biometric authentication is verification: in other words, the clear determination of identity, with confirmation or rejection of the identity claim of a given person. The system compares personal data with unique, permanent physiological characteristics such as fingerprints, facial features, iris or vein patterns. Germany's Bad Reichenhall City Clinic was the first hospital in the world to introduce biometric iris scanners to protect maternity ward baby rooms from unauthorised entry. Now the Bodden Clinics in Ribnitz-Damgarten have also introduced biometric authentication through fingerprint controls at the entrance of its maternity room facility.

The advantages of biometric authentication are obvious. Classic password or PIN-based authentication systems cannot distinguish whether the person entering the correct data or keys is actually the authorised owner. In addition, unlike passwords, chip cards or keys, biometric characteristics cannot be forgotten or lost.

Potential Dangers
Although an array of biometric authentication systems are currently available, including fingerprint, iris or face recognition. All vary in the security they offer. Some are even contested by security experts. For example, face dimensions change over the course of time and may often be unreadable by scanner systems after a few months. Vulnerabilities have also been discovered in iris scanners, for example, which can be outwitted by the use of contact lenses, and fingerprint sensors by adhesive tape or latex dummies. Researchers at Clarkson University in the US recently used artificial fingers made of modelling clay or silicon to fox 90% of fingerprint systems they tested.


Vein scanning as a security system
A newer method of biometric security control uses near-infrared rays to scan the unique pattern of veins in the palm. The reduced haemoglobin flowing through the veins of the human palm absorbs the rays, reducing the reflection rate and displaying the veins as a black pattern. This pattern is then compared with a pre-registered database and verified with highest accuracy. Since every hand has its own unique vein patterns that are permanent throughout life, it is nearly impossible to fake identity through manipulation.

Last year, the Tokyo University Clinic selected the Palm Vein sensor, due to its high level of security and user-friendliness. At the clinic the biometric system secures the entrance to the Department of Planning, Information and Management, instead of the fingerprint-based system used in the past. The clinic sought a more secure control method after Japan's Personal Information Protection Act came into full effect, and finally decided on the Palm Vein authentication system from Fujitsu.
Hospitals face the challenge of maximising their level of security, while also keeping a watchful eye on the costs involved. Investment in biometric security systems represents a useful option in which the hospital is equipped with state-of-the-art technology, patient service is improved and cost efficiency is maintained at the same time.