AZ Sint-Jan AV Hospital in Bruges adapts to the new IMPAX Cardiovascular Suite
Among its many specialties, the 909-bed AZ Sint-Jan AV Hospital in Bruges, Belgium, has a high level of expertise in cardiac catheterisations and electrophysiology.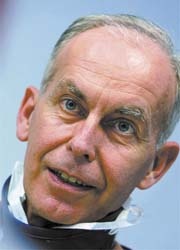 One year after the installation of the IMPAX Cardiovascular Suite – an IMPAX Cardiovascular PACS and Information Management Solution from Agfa HealthCare, the hospital reports that it has been integrated with most of its information systems, including the HIS and IMPAX RIS/PACS. Next, the hospital will add ECG (electrocardiogram) waveforms to the IMPAX Cardiovascular Solution, which will take all its cardiovascular modalities into one overall solution. 'Another significant improvement to be implemented shortly is the complete automation of departmental stock management and invoice handling. The result will be a complete paper-free Cardiology department.'
The cardiology department at the AZ Sint-Jan AV was reported to have the most technologically advanced equipment in the region. However, Dr Luc Muyldermans, Head of Cardiology, observed: 'Cardiology exams were stored on DVDs. So when clinicians needed to review a case, they had to walk to the storage room, find the right disk and take it back to their workstations. To tackle these storage and distribution problems, we decided to implement a Cardiology Picture Archiving and Communication System (CPACS) and Information Management solution.'
To give the Agfa HealthCare installation specialists the ability to thoroughly test the system, as well as allow the medical staff to get acquainted with it, the implementation was carried out in gradual steps. Early last year the IMPAX Cardiovascular Suite was installed to store images from cardiac catheterisation and angiography, which resulted in a strong efficiency boost. 'Introducing a structured image database makes the administration of images a lot simpler,' Dr Muyldermans now points out, adding that the web-deployment feature of the IMPAX Cardiovascular Suite also results in a better service between this central hospital and referring hospitals.
More on the subject:
More on companies: