Agreement between Edwards Lifesciences and Medtronic
All patent litigation between the companies to be dismissed
Edwards Lifesciences Corporation, the global leader in the science of heart valves and hemodynamic monitoring, announced that the company has reached an agreement with Medtronic to settle all outstanding patent litigation between the companies, including cases related to transcatheter heart valves.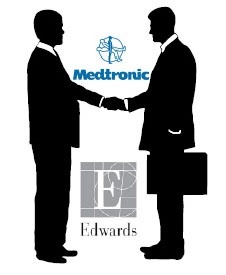 The agreement will result in the dismissal of all pending cases or appeals in courts and patent offices worldwide, and includes a provision that the parties will not litigate patent disputes with each other in the field of transcatheter valves for the eight-year duration of the agreement.
"We are pleased to reach an agreement that preserves physician choice while also recognizing Edwards' leadership in pioneering the transcatheter heart valves that are chosen most often by physicians worldwide. This agreement allows us to move forward, fully dedicating our time and resources to helping patients," said Michael A. Mussallem, Edwards' chairman and CEO.
Under the terms of a patent cross-license agreement that is part of the settlement, Medtronic will make a one-time payment to Edwards of $750 million. Additionally, Medtronic will pay Edwards quarterly license royalty payments through April 2022. These payments will be based on a percentage of Medtronic CoreValve sales, subject to a minimum annual payment of $40 million.
Edwards will contribute $50 million from the settlement to the Edwards Lifesciences Foundation to support efforts to improve patient care, raise disease awareness and educate clinicians, such as through its Every Heartbeat Matters philanthropic program.