Agfa unveils new table-top CR
Simple, smart design plus proven technologies offer low-volume practices cost-effective CR with no-compromises on image quality
New CR 10-X is a cost-effective entry into computed radiography, without compromising on image quality. Robust yet easy-to-install and maintain solution, offering streamlined and integrated workflow.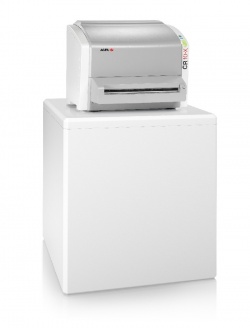 Agfa HealthCare announces today that it will launch its new CR 10-X computed radiography (CR) solution at ECR 2012. With this affordable CR system, lower-volume hospitals and private practices can benefit from the workflow advantages of digital radiography, without compromising on image quality.
Convenient, table-top and versatile
The CR 10-X is an affordable, table-top CR system specially designed to offer a cost-effective entry into CR that doesn't compromise on image quality. This versatile solution can handle general radiography, orthopædic, chiropractic and full leg/full spine (FLFS) applications. It allows lower-volume hospitals and private practices to take advantage of the convenient and fast workflow offered by digital radiography.
With its small size, the CR 10-X is equally suited for mobile applications. Streamlined and using minimal moving parts, the solution can withstand harsh environments and temperature changes. It is designed to be robust and reliable, yet easy to maintain and use, for a lower total cost of ownership. It also offers excellent network capabilities, for seamless integration with the hospital's environment.
Excellent image quality and smooth workflow
Despite its compact size and cost-effective design, the CR 10-X makes no compromises on image quality, offering high-resolution scanning of 100 µm pixels at a rate of 34 plates per hour. Like all of Agfa HealthCare's CR solutions, it comes with Agfa HealthCare's gold-standard MUSICA2 image processing software and NX workstation. MUSICA2 analyzes each image and automatically applies the appropriate image enhancement parameters independent of the exam type, while the NX workstation provides very fast image acquisition and a smooth workflow. The CR 10-X can be combined with Agfa HealthCare's DRYSTAR 5302 imager or its SE Suite software to deliver a complete hardcopy or softcopy CR solution at an affordable price.
Meeting the needs of every healthcare facility, whatever size or budget
"Agfa HealthCare continues to focus on offering a complete solutions portfolio that meets the specific needs of any healthcare facility, regardless of size, workflow design or budgetary considerations," comments Dirk Debusscher, Vice President Imaging at Agfa HealthCare. "Our CR 10-X supports that goal. We have used proven Agfa HealthCare technology to design an affordable and compact solution that doesn't compromise on image quality."
Insight. Delivered.
Visit us at ECR 2012, Expo A, Booth nr 103, Vienna, March 2-5, 2012.
Not available in the US.

More on the subject:
More on companies: