Radiology for children
Agfa migrates Children's National into digital age
Lowering radiation exposure for pediatric exams while increasing image quality with direct radiology systems proved mission critical for leading clinicians.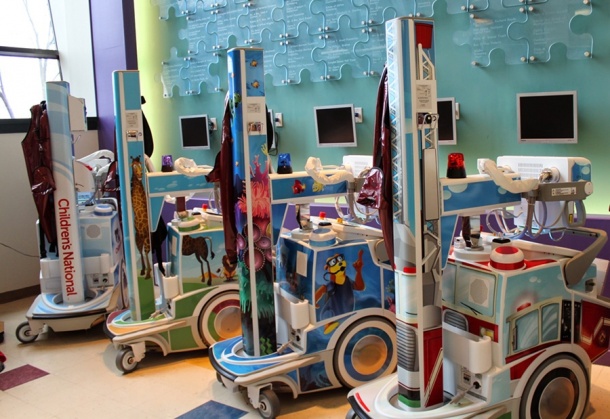 Established more than 140 years ago, Children's National Health System is dedicated exclusively to childhood illness and injury. Based in Washington, D.C. this unique medical center is a proven leader in bringing innovative treatments to pediatric care, serving more than 300,000 patients each year who come from throughout the region, nation and world.
In a continuing campaign to reduce radiation exposure for children undergoing diagnostic exams Children's National selected a full suite of digital x-ray equipment from Agfa HealthCare for its potential to help lower radiation dose by as much as 60%. The new installation of six DX-D 100 mobile DR systems and two DX-D 600 full room suites will also help Children's National make a transition from computed radiography (CR) to direct radiography (DR).
"It is of the upmost importance to us that children requiring X-rays are exposed to radiation doses as low as reasonably achievable," said Sanya Tyler, Radiology Services Manager, Children's National Health System.
At the same time, the quality of the lower dose images is critical for clinicians, and Dr. Tyler added, "Agfa's DX-D 600 system has elevated our image quality and consistency. We have been able to improve our pace of service and enhance patient satisfaction. As a result of Agfa's best-in-class technology, Children's National is supremely confident that we now produce images of excellent quality while being able to manage radiation dose. "
The DX-D 600 system, for example is fully automated to easily conduct accurate full-length spine imaging for scoliosis evaluations, which are often conducted on the hospital's pediatric population.
Meanwhile the mobile DX-D 100 DR systems were sought for the ease of use in bringing high-quality imaging capabilities out of the radiology department and to the bedside for the young patients who are unable to be moved.
Following image acquisition, all the new systems are integrated with the MUSICA multi-scaled image processing software that displays in exquisite detail the low noise images.
Ueli Laupper, DR Business Director, Agfa HealthCare North America said, "We are honored to be chosen by Children's National Health System as their partner to migrate to DR workflow and productivity. We have focused on pediatric imaging excellence for many years and are committed to assist the diagnostic team of Children's National in their quest to serve their patients using the lowest radiation dose reasonably achievable."
Source: Agfa HealthCare Press Office
More on the subject:
More on companies: