Agfa launches DX-D 600 at RSNA 2011
Agfa HealthCare announces that it will launch its automated DX-D 600 direct radiography (DR) system, which has received 510k clearance by the U.S. FDA, into the U.S. market at RSNA 2011. Combining user-friendly design with excellent image quality in a high-productivity direct digital X-ray room, the fully automatic system also offers the latest in state-of-the-art auto-positioning technology.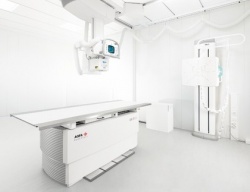 High-productivity DR room offering excellent image quality
The fully-motorized, auto-positioning DX-D 600 is ideal for facilities with a high patient load that are looking to streamline workflow to increase patient comfort. Quick, easy manual movement in all directions makes it well adapted for emergency situations.
With MUSICA² image processing technology, offering consistent image quality with enhanced contrast detail, and the NX acquisition workstation, for user-friendly workflow, the DX-D 600 delivers excellent X-ray room performance. The dual Cesium Iodide (CsI) DR detector technology located in the wall stand and table provides excellent image quality, immediate image availability and high X-ray sensitivity.
Options and configurations for greater flexibility
The versatile solution includes single or dual detectors, and three configuration options: manual movement, semi-automatic movement with vertical and table tracking (both Works in Progress), and fully-automatic positioning.
Excellent DICOM connectivity and integration with radiology information systems (RIS), hospital information systems (HIS), picture archiving and communication systems (PACS) and imagers provide flexibility for soft or hard copy output, and improve workflow.
"We are very pleased to be able to launch our top-of-the-line DR solution at an important event like RSNA," comments Greg Cefalo, Imaging Unit Manager, Agfa HealthCare U.S. "By delivering this fully automated digital X-ray room, we show our commitment to innovation in order to meet the evolving needs of healthcare providers everywhere."

More on the subject:
More on companies: